Posted by Corryn Barakat on 31st Jan 2019
Breastfeeding your precious baby is such a beautiful experience, but sometimes it can be messy, sometimes it can be frustrating, painful and incredibly embarrassing. Among all of this, you're trying to work out what to where when you're breastfeeding!? What breastfeeding clothes do you need and how are you going to be able to attach and nurse your hungry baby when you're out and about? There is so much to learn when you have a newborn baby, but rest assured, you will work it all out!
Plan for your Fourth Trimester
You spend your life wearing gorgeous clothes, you may have invested in nice clothes for work, and have a couple of casual clothes for the weekend. Often, when you're pregnant, you buy a couple of maternity clothes, like pants, and maybe some tops and dresses that you can wear to work, and a few for the weekends. Life is rather peachy.
Suddenly, at the end of your pregnancy, you start to wonder what you'll need for after your baby is born. A beautiful customer visited me at Milk and Love yesterday, in her third trimester, wondering what she would need for breastfeeding. After all, what do you wear when you're breastfeeding? Tops or dresses with easy breastfeeding access, for sure, but what kind of access should you be getting, and what sort of clothes will you need?
In the weeks and months after my first baby I was in such a whirl of cleaning up poo explosions, vomit, and milk leakages that I really had no idea whether I was up or down. Clothes existed purely for the purpose of being covered, there was very little style involved! Slowly though, as I came to grips with new motherhood (this took me a while – I was a slow learner), I started to feel "frumpy".
I had a wardrobe full of "work clothes" and very little in the way of stylish casual clothes. But now what to buy? Should I get breastfeeding clothes? Button up tops? At the time there was very little available on the market.
Tip number 1: invest in good quality maternity clothes that ALSO have easy and discrete breastfeeding access! If the breastfeeding access isn't easy and discrete (make sure you try it out!) then don't buy it, or send it back.
In hindsight, I wish I'd bought more maternity wear with breastfeeding access that could be worn for the following months after birth, while I was waiting for my tummy to go back to some semblance of normal! There are few things more depressing than looking in normal shops for something to wear and realising that none of them fit your post partum body, let alone trying to find something that fit my post partum body AND had breastfeeding access!
Beware Synthetic Fabric
Another novice mistake I made when I first started buying maternity clothes was to ignore the fabric type. I have a distinct memory of waiting until my second trimester to go maternity clothes shopping (just to be sure), and then going for a shopping spree with my Mum. My wonderful mother wanted to buy me some really nice pieces (first grandchild in the family!). We went to an upmarket maternity clothing shop and I tried on so many clothes, and bought a heap of practical clothes for work, but the one item I splurged on was a bright yellow maternity and breastfeeding top. It was a statement top that cost more than I want to admit (!!), but I figured I'd be able to wear it throughout the pregnancy, and for breastfeeding, and it is so important to have something lovely to be able to wear when you need it!
Unfortunately, I didn't check the information tag. The top was made with polyester. I lived on the sunny Sunshine Coast in Queensland. I was carrying over the hot summer weather, with my baby due in late February.
Synthetic Fabric + pregnant woman = hot, red faced, sweaty pregnant woman.
I think I managed to wear it twice before giving up on it.
Tip number 2: Always check the type of fabric and make sure it is natural so it can help with regulating your body temperature, and absorb moisture. Good quality fabric makes a HUGE difference when you're pregnant and breastfeeding. My internal body temperature took at least 12 months to go back to normal after my birth – I felt constantly overheated.
Every Woman is Different
The next thing that quickly became apparent was I needed very easy and discrete breastfeeding access. My baby didn't like being covered under a breastfeeding cover (he overheated very easily and would try to pull off the cover instead of breastfeeding), and I couldn't manage to pull the cover up, and help him attach comfortably. He had a little bit of reflux and was a snack feeder. This meant that he fed on and off, All. The. Time. Only 5 minutes at a time, but then another 10 minutes after that he'd want another feed. It drove me crazy, but it also meant that I became pretty good at breastfeeding in public.
It was important to me that my chest was covered, my belly was covered, and I didn't feel exposed. I found that there were a number of types of nursing tops and breastfeeding dresses, and the different styles were great for different places (see more information about nursing access here). I loved the drop cup access because it was so easy. I also loved neckline access, where I could pull down an outer layer and access the breastfeeding openings underneath. I found layering a breastfeeding singlet (see more about choosing a breastfeeding singlet here) under a loose top only worked for me in winter. In summer it was too hot, and the fabric was too thick and bunched up. I didn't like the hem lift access so much because it left lots of fabric over my chest, and felt awkward to pull up.
The most uncomfortable moment of my breastfeeding career has been needing to find a private space where I could undo the entire top of my dress and pull it down around my waist so I could breastfeed. Breastfeeding access matters.
Tip number 3: Get an idea of different breastfeeding top styles and figure out which ones work best for you.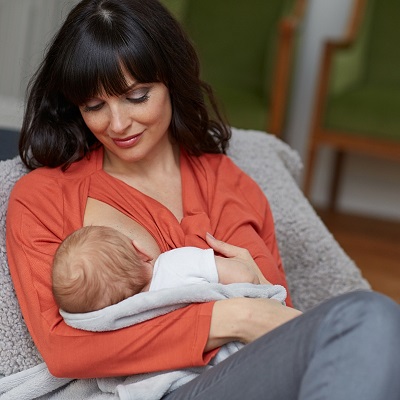 Night Time Nursing and Breast Pads
The last lesson I learnt as a breastfeeding mum with fast let down and oversupply, was to make sure I had clothes that could hold breast pads in place at all times. I have very graphic memories of stepping out of the shower and spraying milk everywhere (see my post on 10 things only a breastfeeding mum will understand). Breast pads were a constant necessity for me.
I needed to be wearing either nursing bras, singlets, or, at night time, easy drop cup access or neckline access chemises and pajamas. In the very early weeks when my milk supply was in overdrive I had to sleep on a folded towel, just in case.
Tip number 4: Think about getting a sleeping bra, chemise or pajamas that will be able to hold breast pads in place through the night.
---
So, what do you need to wear when you're breastfeeding?
Good maternity or nursing bras that are properly fitted (you'll probably be wearing them for a long time!)
Breastfeeding Tops and nursing dresses that match your wardrobe with easy breastfeeding access (it's a great idea to buy maternity wear with breastfeeding access for that tricky forth trimester when you still have a belly after birth!)
Something to wear at night (at least 2 breastfeeding friendly nighties or pj's in case one gets soiled) – you can wear breastfeeding singlets with pajama bottoms if you need to
A few breastfeeding singlets (for layering under other tops or cardi's)
Some wraps or breastfeeding covers if you want extra coverage in public. I always recommend the waterfall wrap to customers as it is the most versatile top for breastfeeding mothers that I have ever seen
Breast pads – I recommend reusable breast pads that you can throw in the wash to save money and go easy on the environment. They are also much better against your nipples. You can mix it up and get some disposables and some reusable's while you're working out what works best for you as well.
---
About the Author
Corryn is a lover of coffee, hugs and sunshine. Mum of 3 and founder of Milk and Love, Corryn loves chatting to new mums and pregnant mums. She has extensive breastfeeding experience, and is an advocate for gentle parenting, cosleeping and looking after Mum's mental health... read more about Corryn here