Posted by Corryn Barakat on 23rd May 2018
What are breastfeeding singlets or nursing singlets?!
Simply put, singlets made for breastfeeding that have easy nursing access. Some styles include built in bra cups so you don't need to worry about a nursing bra if you're happy with light support. You can simply unclip at the straps and drop down the cup to nurse.
Most breastfeeding women will tell you that breastfeeding singlets are an essential part of your wardrobe after giving birth. When you are nursing around the clock you need clothes that give you easy nursing access, are comfortable to wear, and easy to wash and nursing singlets tick all of the boxes! They are also perfect for layering under your existing tops to create a perfect nursing outfit so your tummy is always covered while you're nursing.
Ideally you also want to make sure that your nursing singlets absorb moisture well for any leaks or spit ups. Generally synthetic fabrics will simply 'leak', while natural fibers will absorb. Another benefit of natural fibers is the ability to help your body and your baby's body regulate body temperature appropriately.
Best Breastfeeding Singlets
We love breastfeeding singlets made with natural fabrics, that are also long enough to feel as though you're covered all the time. Here are key features to look for:
Easy nursing access - the drop cup style shown below is the easiest and quickest access style available. Simply unclip with one hand and drop the cup down to access the nursing opening below. Simply unclip and feed. This is especially important for new mums who are learning how to breastfeed. You may also find yourself leaving the cups down while you're at home to help 'air' your nipples. It's hard to believe if you've never breastfed before, but this can help with healing in the (sometimes painful) early days of breastfeeding. Simply express a little of your milk onto your nipples, and let them air in between feeds sometimes to allow them to heal and to help prevent infections. Just remember to clip back up when you answer the door!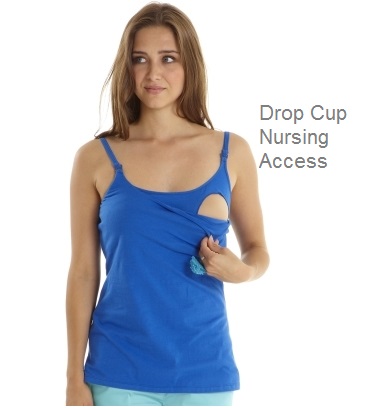 Extra cover over your chest - In the picture above you can see the inner lining across the chest, as well as the generous nursing openings. There is a balance between having some coverage when you're nursing in public (particularly across your chest and stomach) so you don't feel quite so exposed and vulnerable, and the size of the nursing openings, so you can actually nurse comfortably and get the attachment right. Some nursing singlets have no lining, leaving you quite exposed, and others have teeny, tiny nursing openings, making it difficult, especially in the early days, to make sure you have good attachment, and you aren't cutting off any milk ducts (which can lead to blocked ducts and mastitis).
Comfortable fabric, easy wash care - We always recommend natural fabrics, whether they are bamboo, cotton, modal or organic cotton. Because you wear nursing singlets against your skin, your babies skin, and for long periods of time, it is important to find material that is breathable, doesn't contain any hazardous toxins and is easy to wash and wear (there is no time for special wash care when you have a newborn baby in the house!). Natural fabrics also have excellent moisture absorption properties and will simply absorb any leaks or baby spit ups. If you can find something with a little bit of elastane or spandex this will also allow stretch and help the singlet to retain its shape.
Choose colours that mix and match with your wardrobe - It's a good idea to think about your existing wardrobe when you're buying breastfeeding singlets. Staple wardrobe items like this need to be able to mix and match with your existing clothes so you can layer them and wear them with everything.
The team at Milk and Love have put together a range of the best nursing singlets available, from international brands such as Mothers En Vogue, Love Milk and Boob. You can check out the range here: Shop Nursing Singlets
***Special offer for New Mums***
We know how hard it is to create a breastfeeding wardrobe when you're a new mum, so we now offer 3 for 2 on all Breastfeeding Essentials Singlets, Tops and Dresses. Buy any 3 and the cheapest will be FREE! Hooray!
Our Breastfeeding Essentials range features premium organic cotton material, classic designs such as A-Line to suit post partum figures, and super easy nursing access, making these items perfect for new mums.
Shop Breastfeeding Essentials 3 for 2 here.
---
You may also enjoy
What to Wear When Breastfeeding
10 Things Only a Breastfeeding Mum Will Understand
Feeling Like A Milking Cow? 3 Easy Steps To Feel Like A Woman Again
Lactation Cookies and Breastfeeding Tea to support your Milk Supply
Best Breastfeeding Dresses for New Mums
---
About the author
Corryn is a lover of coffee, hugs and sunshine. Mum of 3 and founder of Milk and Love, Corryn loves chatting to new mums and pregnant mums. She has extensive breastfeeding experience, and is an advocate for gentle parenting, cosleeping and looking after Mum's mental health. Read more about Corryn here.
---