Hospital Bag Checklist for New Mums
First of all, CONGRATULATIONS! Being pregnant is such an exciting time, so much to plan for, and so much to look forwardto.As you enter the third trimester of your pregnancy, it's a good idea to start thinking about what to pack in your hospital bag. We asked our customers and fans what they recommended, and brainstormed all the items we had (or wished we'd had!) to put together the BEST Hospital Bag Checklist for you!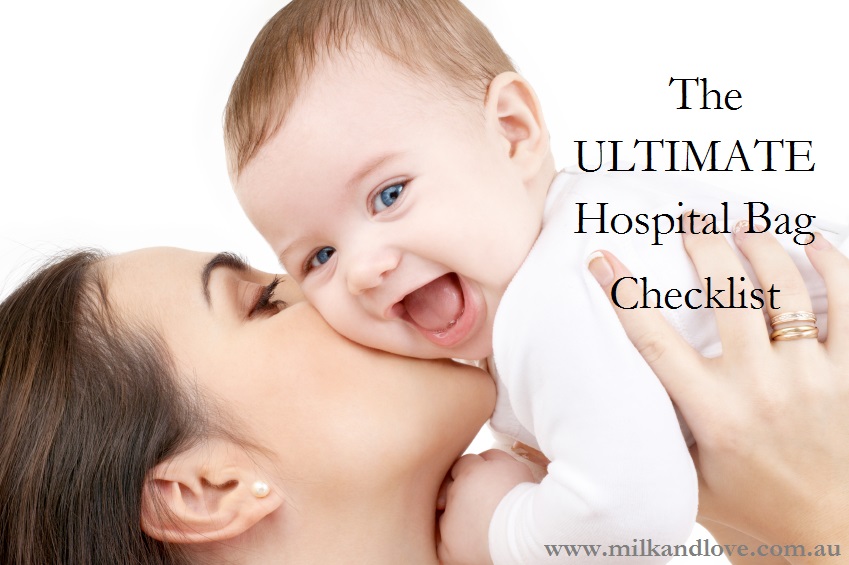 [Don't have time to read the whole thing? Don't worry, I've put it into a handy PDF for you to download. Click here to get yours]
Getting Started
You may want to pack three separate bags. One for your hospital stay, one for your baby essentials, and one with everything you need during labour. Remember to download your copy of the list so you can check it off!
For Labour
You may be in labour for quite a long time (especially if it's your first), and you may also find you spend time in the shower or bath (water is very good for relaxation). It is a great idea to have a think about what kinds of things you find relaxing and include those. It's a good idea to keep your labour bag separate to your hospital bag so that you can easily access the items you need.
Make sure you check with your hospital what paperwork they need. You may want to take your health insurance information, hospital forms and Medicare cards.
Essentials
For you:
big loose t-shirt, or sarong or wrap around gown to wear when you're not in the shower
thongs or slip on shoes that are easy to put on and off and that can get wet
hair tie, bobby pins, or hair band to hold your hair back
lip balm
sports drink or lollies for an energy boost - you may also want fruit and nut mix, muesli bars or crackers
music and music player (some labour rooms include cd players or docking stations. Check with your hospital) You may want to have relaxing or meditative music, or more intense music to match your labour!
Some mums also swear by taking an iPod filled with your favourite music and ear phones to help you zone out. On the other hand having music for everyone gets the whole support team in the same 'zone' as you, which can be helpful!
Birth Plan - several copies for your husband to give to the midwives, plus any other documentation you have been asked to bring by the hospital.
Breastfeeding tops to wear after your birth
Maternity pads, socks, shoes and comfy undies to wear afterwards. Loose pants (you may be feeling tender all over), one mum recommends bonds tracksuit pants.
Plastic bag to take soiled clothes home in
For your support team:
board shorts or swimmers to help you while you're in the shower or bath
a change of clothes for afterwards
snacks and drinks (it's a looooooonnnng haul!)
Pain killers in case of headache!
mobile phone charger (you don't want a flat phone when it's time to send out the news!)
Optional Extras

For you:
Positive birthing affirmations printed out that you can read if you want inspiration
a camera or video (or just your iphone with a charger)
hair brush
aromatherapy (e.g. oils and oil burner, or diffuser)
extra soft toilet paper
a breastfeeding friendly wrap or jumper to wear afterwards
A really nice body wash for after the birth to make you feel pampered, but remember to avoid fragrances, as the smell can overwhelm your baby. In the early days your baby needs to smell you to feel comforted.
For your support team:
a box of roses or packet of Tim Tams to give to the midwives who supported you (you may like to take one for the midwife/s who spent the most time with you, and one for all of the staff that helped you during your hospital stay)
a thank you card (or maybe a couple in case there is someone in particular you would like to acknowledge) to fill in before you leave the hospital
---
Great idea: take a box of roses or packet of Tim Tams to give to the midwives who supported you (you may like to take one for the midwife who spent the most time with you, and one for all of the staff when you leave the hospital)
- Cheryl Sheriff, from Ideal Birth
---
For your hospital stay
Generally you will stay for between 3 - 7 days at hospital, depending on a range of outcomes. You will still have all of the items you took in for your labour, and it can be a good idea to ask your partner/support team to reorganise your bag for you for easy access, and take home any soiled clothes after the labour. Remember that your partner will be able to leave and pick up anything in particular that you need if you've forgotten something or run out!
Essentials
For you
comfortable, dark coloured undies (yes there will be leakages and the maternity pads are rather large!). Some mums swear by granny undies to help hold your stomach, another mum recommends taking soft cotton boxers in case you have a ceasarean (even if you're not planning to), so that the boxers can go up over the scar (or hipsters to sit under the scar) to avoid irritation.
lots of maternity pads (at least 2 packets - these are larger than regular pads. You may continue bleeding for up to 6 weeks after giving birth, however the bleeding should subside after the first few days)
Nipple cream to help heal your nipples while breastfeeding (it does get better!)
Breast pads / nursing pads (disposable is good for hospital, cloth is great once you're home)
scent free toiletries - small shampoo and conditioners OR dry shampoo plus your normal toiletries (toothbrush, toothpaste, face wash, moisturiser etc). Your baby will be overwhelmed with smells, sounds and lights. It is best to avoid fragrances in the early days so that your baby can just smell you and be comforted.
relaxed fit breastfeeding singlets/tops and sleepwear with easy nursing access or your transitional maternity wear (maternity wear with breastfeeding access), if you have it, to get you through at least a 4 day stay, PLUS
an expectation that your stomach will probably still look about 20 weeks pregnant (it takes a while to go back to its pre-pregnancy size!)
nursing bras (no underwire to make sure you're not cutting off any milk ducts)
Socks/slippers and robes/jumpers (hospitals are cold!)
Phone charger
change for vending machine (just in case!)
For your baby
Many hospitals include nappies, onesies, and blankets so check with your hospital before packing your bag
Newborn Nappies, wipes, blankets (if not supplied by the hospital)
4 x warm onesies, singlets, socks (if not supplied by the hospital)
Baby hats and mittens (although we recommend only using the hat/beanie while your bub is sleeping, and not when bub is attached to you or partner, especially straight after birth. Your body temperature will keep your baby warm, and smelling your baby's head is important for bonding – it can stimulate the flow of oxytocins which is also good for breastfeeding)
Baby Moisturiser – we love organic coconut oil, but always test for allergies before using all over! Other baby toiletries are not usually necessary – just water is enough in the early days, and is better for sensitive skin.
Going home outfit
REMEMBER to have your approved car seat fitted well before your due date!
Shop our baby essentials here>

Optional Extras
For you
Your own pillow if you're particular about pillows :)
Moisturiser - we like coconut oil butter, which is also great for your baby if they have some dry patches, others also recommend pawpaw
Any other body wash or moisturiser with no or low fragrance
Any snacks e.g. fruit and nut mix, snakes etc
a good book to read
eye mask if you're sensitive to light
ear plugs (but be sure you can still hear your baby!)
a "New Baby" book to start recording details about your new baby (trust me this gets out of date very quickly once you get home - it's a great idea to get started while you're at hospital!)
A list of potential baby names!
If you have older children
a gift from your newborn to any siblings is a great idea
activities (coloured pencils, books, stickers) for any older children to keep them occupied during visits
---
Good to know: have an expectation that your stomach will probably still look about 20 weeks pregnant (it takes a while to go back to its pre-pregnancy size!)
- Sheree (experienced mum!)
---
[Don't have time to read the whole thing? Don't worry, I've put it into a handy PDF for you to use. Click here to get yours]
Is there anything else you would include?
---
You may also enjoy
What to Wear when Breastfeeding

The Easiest Way to Pull Together Any Outfit
Having a Baby? 3 Essential Tips for Soon-To-Be Dads
---
About The Author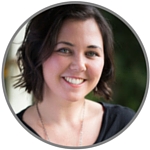 Corryn is mum to 2 energetic little boys and 1 labradoodle, just to keep her on her feet. She had an AMAZING birth with her second baby and encourages everyone to try active birth classes or hypnobirthing classes before giving birth. You can read more about Corryn and Milk and Love here.