Posted by Corryn Barakat on May 10, 2022
OMG! Your friend is having a baby shower and you want to get her the perfect Baby Shower Gift but don't know where to start? Don't worry. We've got you sorted. Not only have we been sending Baby Shower Gifts to families for the last 5 years, but we also checked in with our Milk & Love Mum community to find out what they appreciated most from their friends and family.
What do you buy for a Baby Shower Gift?
Corryn shares her top 10 Baby Shower Gift Ideas for you in the video below, or read on for more information on the blog below.
When you're really not sure what to buy for a baby shower gift, I would stick to getting something beautiful for baby like a baby book, classic toy or high quality blanket or swaddles. You can also get something indulgent for mum that they wouldn't necessarily get for themselves such as belly oil for the final stages of pregnancy, a lovely eye pillow or bath salts to help her rest and relax, or some delicious pregnancy cookies or tea to show you care.
Most new Mums tend to receive a lot of baby clothes, however this can also be quite personal if the Mum is particular about what colours she wants to dress baby in. As a general rule I would avoid baby clothes unless you know Mum quite well.
We have a great range of pre-made Baby Shower Gift Boxes here that have some of our most popular items for Mum and Baby wrapped up in a beautiful gift box.
How Much Money do You Spend on a Baby Shower Gift?
There is a wide range of budgets for a baby shower gift! The lower end is $50 to $60 for a friend you don't know all that well, up to around $200 to $300 or more for a close friend or family member. Having a new baby is expensive and a baby shower is traditionally a celebration to help get the new family all set up.
What is the Best Baby Shower Gift to Give?
The best baby shower gift is one that the family will love. To work that out you will need to ask them what they need, or ask someone close to them for recommendations.
Traditionally the most popular gifts have been baby clothes and nappies, however these days Mums-to-be appreciate insights into new products that make life easier. Our Milk & Love Mum's tell us that the best gifts are ones products that other parents have found useful, along with a hand written note on what it is and how to use it.
The gifts that get the best feedback include:
Best Baby Shower Gift Ideas for Mum
When you're choosing a baby shower gift for Mum you want to nourish and support her during the remainder of her pregnancy as well as support her through the post partum recovery period. Some great ideas are Pregnancy Superfoods, Affirmation Cards, or Lactation Cookies and Tea to support her breastfeeding.
There is a lot for a new mum to cope with, and thankfully there are a lot of beautiful products to help support and pamper a new mum.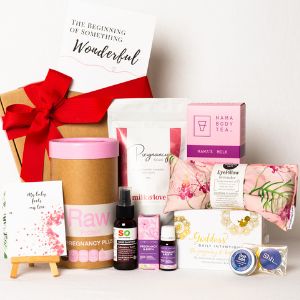 Best Baby Shower Gift Ideas for Baby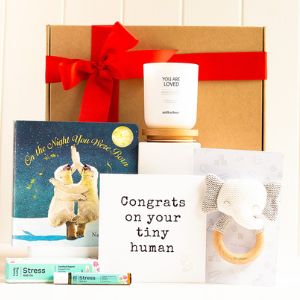 You might want to include some items to help towards their newborn baby as well. We love to include high quality baby essentials that will be appreciated and used over and over by the family. These are some of our favourites:
Best Baby Shower Gift for Boy
If you know the parents are expecting a baby boy then you can have a little more fun with the baby boy gift and include a blue or navy onesie or romper, along with a baby board book, or baby toy for a boy.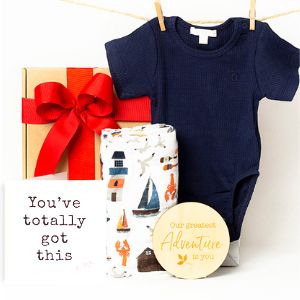 Best Baby Shower Gift for a Girl
A daughter is such a blessing and if you know the parents are expecting a baby girl, then you can choose some beautiful soft organic baby clothes, organic toys or board books all themed in your chosen colour to create a lovely baby girl gift for a baby shower.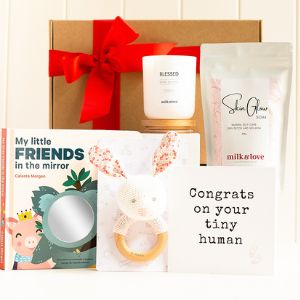 What is the Most Useful Baby Shower Gift?
The new parents might have a baby registry or wish list with guidance on what they still need so you can get them something they'll really appreciate. If you know other friends of the family you can pool your gifts together to buy a more expensive item from all of you.
Other ideas for useful baby shower gifts include:
a voucher with a home cleaning service for when the baby arrives
free delivery voucher for online shopping
a voucher with a meal delivery service for when the baby arrives, or if you know what the family likes to eat you can drop off meals to store in their freezer
bathtime essentials and baby skin care such as soft face washers or towels for baby, baby hair brush, baby nappy cream.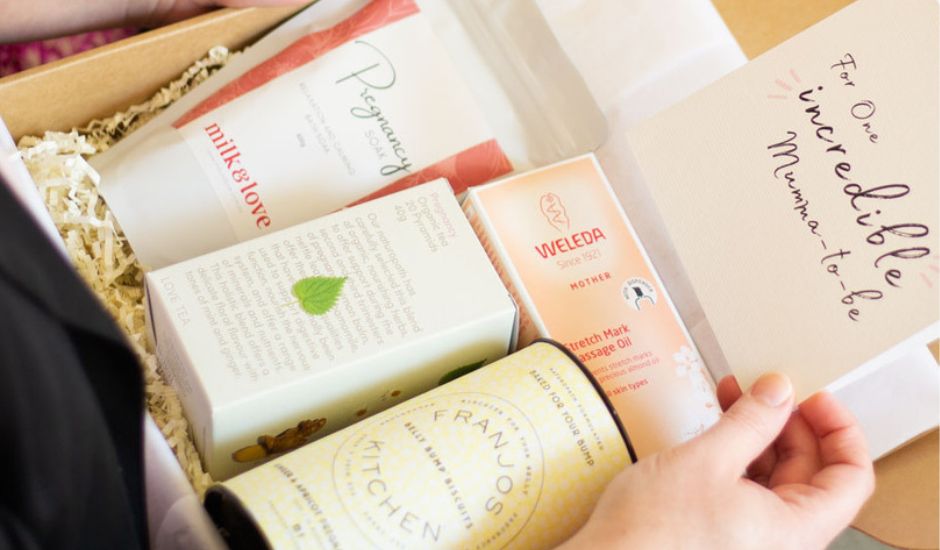 Whew, that's it! Have you received any baby shower gifts you LOVED? Let us know in the comments below!About the Author
Corryn is a lover of coffee, hugs and sunshine. Mum of 3 and founder of Milk and Love, Corryn loves chatting to new mums and pregnant mums. She has extensive breastfeeding experience, and is an advocate for gentle parenting, cosleeping and looking after Mum's mental health... read more about Corryn here