Posted by Corryn Barakat on Feb 07, 2022
Breastfeeding Mums have a lot on their plate. Trying to make sure you have an easy snack on hand to keep your energy and milk supply going can be hard to get around to. That's where lactation cookies come in! These tasty little treats are packed with healthy ingredients that may help boost milk production and give you an energy boost when you need it. The question is, do they actually help or are they just a fad?
What are Lactation Cookies?
Also known as Breastfeeding Cookies, Lactation Cookies are specially developed to include healthy ingredients to help nourish new mums. Each lactation cookies recipe is different, but most include brewer's yeast and ground flaxseed which are associated with increased milk supply, also known as galactagogues (an ingredient that will stimulate milk production).
These days there is a plethora of ready-made lactation products including cookie mixes, breastfeeding shakes, breastfeeding tea as well as gluten free and dairy free options all designed to help you make more milk.
How do Lactation Cookies work?
Lactation Cookies include special ingredients called galactagogues, which are associated with increased breastmilk supply. The common galactagogues used to support milk supply in Lactation Cookies are Brewers Yeast (not the same as nutritional yeast!) Oats, Flax Seeds or Linseed Meal.
Interesting fact: a lot of the research on breast milk supply is sourced from the dairy milk industry (strange but true!), as well as from traditional practices handed down from midwives over the years.
Breastfeeding tea is often also made with fenugreek and aniseed which is associated with calming your digestive system and other nourishing herbs. This can be helpful for you and your newborn (who get some through the breast milk!).
When should I start taking Lactation Cookies?
You can start taking lactation cookies in the weeks leading up to birth. The delicious ingredients are all pregnancy safe and are also great to have on hand for any breastfeeding mum in the early days after birth.
It typically takes 1 to 2 days for mums to increase milk supply after taking brewer's yeast or fenugreek.
How Many Lactation Cookies Should I Eat Per Day?
You should start with 2 per day and then increase or decrease depending on the results. If you eat too many lactation cookies you may end up with an oversupply, or you may also have some bloating or gassiness which can be a side effect from too much brewers yeast for some mums.
Remember that if you are taking Mumma Shakes, or any other lactation products, they all contain similar products, so make sure you calculate your overall intake.
Do Lactation Cookies Work?
There is limited scientific evidence that proves the ingredients will boost your breast milk production on their own. On the other hand, there is a large amount of anecdotal evidence and product reviews that indicate that many breastfeeding mums have experienced increased milk supply after taking lactation cookies or breastfeeding tea.
If you are concerned about low milk supply you should always see a lactation consultant or call the Australian Breastfeeding Association to work out what is causing the low milk supply, and how to troubleshoot it. You can also read our blog on low milk supply for some more information on this topic.
We regularly have customers contacting us about how effective they've found the lactation cookies and teas, like this one:
" I thought I would almost need to wean due to decreasing supply until I tried your lactation cookies & tea. I'm overwhelmed at how effective they are, I'm continuing to breastfeed and look forward to tea & cookies in an afternoon." - Milk and Love Customer
Many of the Mums in Australia I speak to like to eat lactation cookies for their peace of mind and enjoy having a healthy snack on hand that helps nourish their body while they're breastfeeding. You'll probably find that your appetite increases significantly while you're breastfeeding, and it is important to eat nourishing food, and not just reach for unhealthy snacks!
Many women who are pumping to go back to work, or who feel they need a boost in their milk supply like to use lactation cookies to give their body as much help as they can, while also doing things like skin to skin with their baby, plus more breastfeeding sessions and pumping regularly to boost their milk supply too.
What are the common ingredients in Lactation Cookies?
The ingredients used in many lactation cookie recipes in Australia are good for breastfeeding mothers from a dietary point of view. They contain good fats (flaxseed meal & coconut oil) which will improve the fat quality in your breast milk, plus other healthy foods such as rolled oats that will give you more sustained energy.
1. Brewers Yeast: is a source of B vitamins, chromium, selenium, and protein. It does not contain B12, but the other B vitamins in there may help to boost energy and support the nervous system. It is also said that it can help with digestion and keep your skin, hair, eyes, mouth, and liver healthy. It may also cause gas, diarrhea, or stomach upsets in you and/or your baby (!!). If you have a tendency toward yeast infections (such as thrush) or if you are allergic to yeast, we recommend omitting this ingredient. As with any kind of supplement it may have side effects or interact with medications, particularly diabetic medication or medication for Crohn's disease. (source: University of Maryland Medical Center - https://umm.edu/health/medical/altmed/supplement/...
2. Flaxseed: a good source of dietary fiber and omega-3 fatty acids. It contains vitamins E and B, calcium, iron, and potassium. It can be used to help keep your digestive system regular and prevent irritable bowel syndrome. It may also lower blood glucose and improve insulin tolerance.
3. Oats: A great source of soluble fiber (particularly beta-glucans) that helps to slow down the absorption of carbohydrates into the bloodstream, which helps to avoid spikes in your blood sugar levels. They are also a great source of magnesium as well as other vitamins & minerals so it's a great idea to have them as part of your diet anyway! You can have them in muesli or porridge for the same effect. Kelly Mom also suggests that anecdotally, Oatmeal may boost supply for a variety of reasons.
4. Fenugreek: This is one of the most popular herbs for increasing breast milk (most often in breastfeeding tea and capsule form), and has been used for centuries. It contains phytoestrogens, which are similar to estrogen.
It is meant to take effect 24 to 72 hours after ingesting. It also reduces Blood Glucose Levels (so be careful if you're a diabetic!), and can cause uterine stimulation (so avoid if pregnant). Another interesting side effect is that it can make your urine and your baby smell like maple syrup. It is in the same food family as chickpeas and peanuts, so be careful if you have allergies.
Could you have a low breast milk supply?
Most breastfeeding women will not need to take any kind of supplement or "booster" to increase their milk supply. Good old Mother Nature has designed our bodies very well so that when your baby feeds more, your body will produce more – this is the very best way to increase your milk supply.
Read this article for more information on 10 Ways to Increase Your Milk Supply.
What are the best lactation cookies in Australia?
If you want convenient lactation cookies or teas we've done the research and found the best lactation cookies and breastfeeding tea for you!
I have done quite a lot of taste testing and research (it's a tough job!) to find the best lactation cookies and breastfeeding tea available in Australia for you. You can buy pre-made lactation cookies and teas (YUM!) that aren't too expensive, but are delicious! I've also found a delicious range of mixes to make your own lactation cookies, brownies, bliss balls, and more including gluten-free and vegan options. It's great to be able to bake your own without having to hunt down some of the more obscure ingredients!
Shop our curated range of Lactation Supplements here. We continually adjust our range based on feedback from our customers and our research.
We recommend starting with the Bestselling Lactation Cookie Bundle to try out the bestselling brands: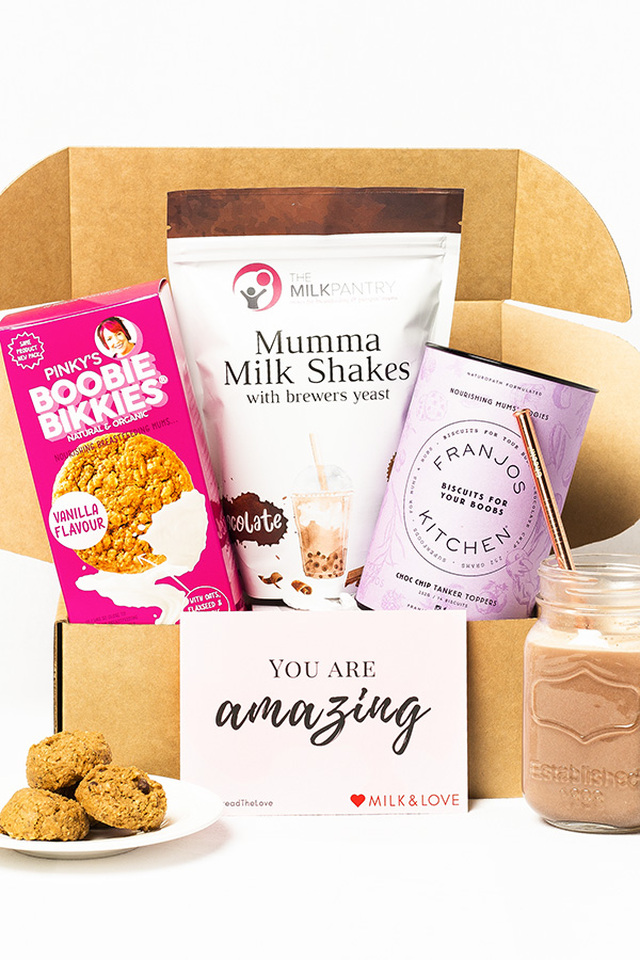 Over to you - have you used lactation cookies? Did they work? I'd love to hear your experiences. Join our Milk and Love Mums group over on Facebook and join the conversation. We'd love to have you!
---
About the Author
Corryn is a lover of coffee, hugs and sunshine. Mum of 3 and founder of Milk and Love, Corryn loves chatting to new mums and pregnant mums. She has extensive breastfeeding experience, and is an advocate for gentle parenting, cosleeping and looking after Mum's mental health... read more about Corryn here