Posted by Milk and Love Team on 5th Apr 2019
Oh my, Baby's First Easter is one of those milestones that has so many opportunities for cute pictures! Whether your baby is a newborn, or almost about to turn 1, it is a lovely opportunity to take a family picture with an Easter theme that you can add to your photo album.
Living in Australia the Spring theme we see with a lot of Easter images feels a bit strange, given that it's Autumn in the southern hemisphere! However we still celebrate renewal and rebirth at this time, and Easter for older kids is all about bunnies and treasure hunts which is loads of fun. If you're really resourceful, you can switch your Easter Bunny for an Easter Bilby and go with a 100% Australian theme.
Celebrating Baby's First Easter
The team at Milk & Love has put together some soft and cute Easter Gifts for Babies along with some chocolatey goodness for new Mums (the most important bit!). We've handpicked soft and cute organic bunnies that would look gorgeous in an Easter picture with baby, and found an interactive board book that babies and toddlers will love.
We love finding natural and organic products that bring joy to our homes, and especially at Easter time it's important to choose fair trade and ethical products that will last. So here are our top favourites!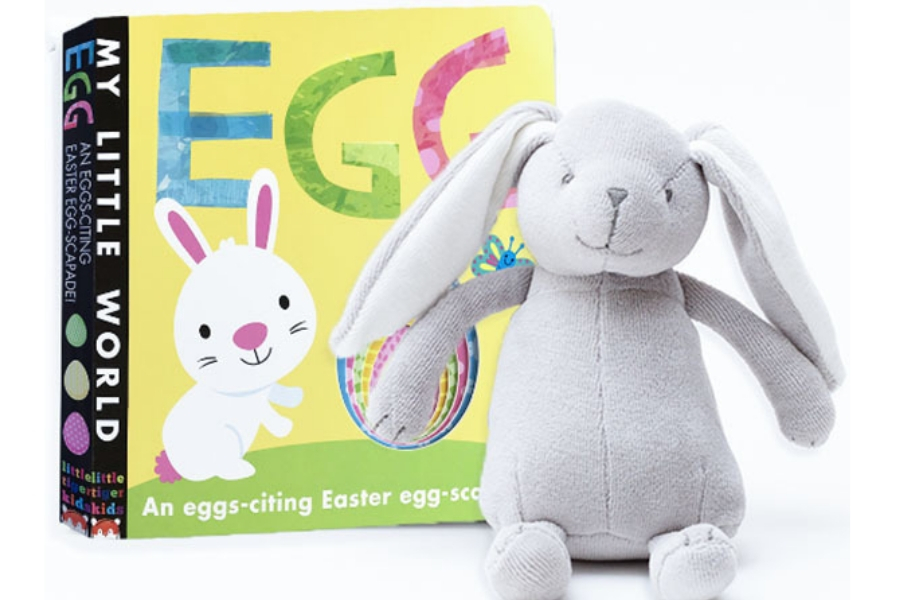 Easter Gifts for Babies: Bunny and Board Book
Such a beautiful little bundle! This gorgeous little Bunny makes a beautiful gift for a first Easter for bub! Made from the softest Organic cotton velour, team it up with this EGGciting Easter book and you'll have one happy bunny!
Baby Bath Easter Bundle
The sweetest little set! This beautiful bath wash is completely pure and gentle enough to use on your newborn baby's delicate skin! Made from a blend of natural and certified organic ingredients! Use this gorgeous Organic Bath Mit to make bath time fun! The cutest little bunny!
Mumma Indulge Easter Bundle
One for Mumma! This combo makes a lovely gift for a New Mum this Easter! Our delicious hot chocolate in one of our gorgeous timber look stainless steel coffee cups! These cups will keep the hot chocolate HOT for hours and are a must have for any New Mum, drinking a hot cup of anything becomes very tricky!!