This versatile and stylish Sangha Bamboo Waterfall Wrap is back for 2017 in this gorgeous and versatile neutral. Great for maternity, breastfeeding and more, this soft and luxurious bamboo cardi / wrap can be worn in so many different ways, it really is a mother's best friend!
Beautiful flowing bamboo fabric is simply gorgeous to wear. A touch of spandex (5%) is added to make this material easy care and flexible

Flattering to all body types this waterfall wrap is a stylish addition to wear over your favourite outfit perfect for a little extra warmth or a nursing cover!

The edges of the wrap feature buttons to fasten across your body to use as a breastfeeding cover. Or drape it however you need for lots of flow.
Our model is 170cm tall and is wearing a size Small.
Check out the video below from Mothers en Vogue for some great ideas on ways to wear this versatile wrap or click here to see it on a 'real' person on our Daily Style blogs.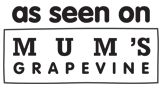 Gift wrapping:
Options are available
Bamboo Waterfall Wrap - Light Taupe
The Bamboo Waterfall Wrap is just beautiful - so soft and comfortable. A beautiful fit and a gorgeous colour. Would highly recommend for pregnancy and nursing.