One of our most popular Bamboo Breastfeeding Dresses! This Zahra dress is designed to drape gracefully over a growing bump as a maternity dress, and then after birth it will fall straight down your body, with easy breastfeeding access cleverly disguised behind the front panel. You'll love the lightweight bamboo fabric, and stylish applique on the neckline. Dress it up, or dress it down, you can't go wrong with this gorgeous dress.
Made with 95% bamboo, with a touch of spandex for durability and easy care. Bamboo is luxuriously soft, lightweight and breathable. Perfect for warmer climates.

Super easy side panel breastfeeding access - the flowing front panel can be pulled to either side to access the center opening in the panel beneath. So easy you'll want to wear it every day.

Soft pink applique on the neckline gives an elegant finish to this beautifully flowing dress. Lightly fitted around the side and back gives some definition where you want it.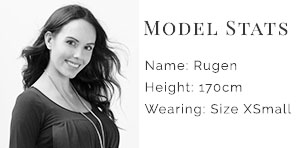 Gift wrapping:
Options are available
This dress is gorgeous - the cut is stylish and it's hard to tell it's even a breastfeeding dress. Easy access and so discrete. The fabric is cool and breathable - sometimes I need to check I still have it on as it's so light and silky! If there were more colours I would be ordering one in every colour! True to size.
A beautiful dress. Super comfortable, easy and discreet to feed in and looks stylish (you'd never know it was a breastfeeding dress)
This is a wonderful dress. Delivery was so fast, beautifully wrapped. The fabric is great, very flattering too!
Zarah maternity and breastfeeding dress.
I love this dress! It is so soft and comfortable and very flattering on my post baby body. I have found it hard to find breast feeding dresses that actually look good but this one is amazing!
Flattering, cool AND practical
This dress ticks all the boxes. It's flattering and forgiving on a post baby body, its easy to breastfeed in and the wonderfully soft, lightweight, breathable fabric makes it an absolute pleasure to wear in really hot, humid weather.
This dress is so soft & comfortable to wear! I haven't tried it for breastfeeding yet, but it sure looks easy to feed in :) I had many compliments while wearing it yesterday!
I LOVE this dress! I'm normally a size 10 but a bit bigger since having my baby. I ordered the Large because of my bust size. When I've tried buying clothes the larger size looks like a sack on me but I need a larger size because of my new bust size. This dress sits beautifully and is very flattering! It is also very easy to breast feed in. Thank you for making lovely feeding clothes. I plan on buying more!!
I just love this dress. I recently bought this for a trip to the Gold Coast and it was so easy to look stylish in this. This dress is very flattering. The fabric was perfect even for more humid climates and breast feeding on the go was a breeze in this. This is a must have. Will most likely buy a smaller size once I slimmed down a bit.
Flattering post natal dress
This is the most flattering post natal dress i've ever worn. Covers post baby bump and highlights your assets! Comfy and soft you don't even have to iron and it allows looks fabulous on. Easy breastfeeding access so can feed anywhere anytime discreetly.
This dress is simply gorgeous, such beautiful soft fabric which drapes well. So comfortable yet pretty. My favourite dress to wear!