Do you need some comfy and versatile maternity yoga pants? Great for exercise, or just to wear around the house, these stylish yoga maternity pants are a must have for pregnancy! Don't forget to pack them into your hospital bag!
Made with 95% rayon and 5% spandex for extra flexibility this natural fiber is essential to help your body regulate your temperature while pregnant
The slim tapered style works well with a tunic to wear out
Fold the top down to wear under belly, or up to wear over belly according to your preference.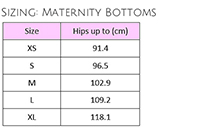 Why we love Mothers En Vogue
Mothers En Vogue was the first brand at Milk and Love! We have loved providing Mothers En Vogue clothes for our customers since 2014 because their range is so flattering for new mums and mums-to-be, and the premium natural fabrics they use are so comfortable to wear and better for the environment.
Sharon, mum of 2, founded Mothers En Vogue in 2003 when she couldn't find any stylish nursing clothes to wear that were made with natural fabrics. The styles by Mothers En Vogue are designed to last and to be flattering for new mums.