This perfect pair of denim shorts will be your best friend through maternity and postpartum. The slim fit shape of these summer weight denim shorts by Mothers En Vogue means they will team perfectly with looser maternity tops - often required to fit over your bump.Â
Super stretchy and flattering we love to wear them with a cute nursing hoodie for the still cooler months or a stripey breastfeeding top.
97% Cotton, 3% Spandex, premium quality light-weight cotton denim with a tad of stretch -Â Light weighted cotton denim fabric that is perfect for summer and designed to fit your changing shape.
Foldover stretchy knit waistband -Â allows you to wear it over the belly or folder under for greater below-the-belly comfort and support through maternity and postpartum.
Front & back pockets with rustic gold metal buttons - adds functionality for phone change and keys when you need your hands free and don't want to lug around a bag!Â

Machine Wash, warm gentle with like colours. Do not tumble dry.
Sizing Information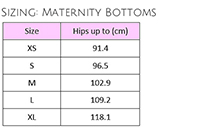 Why we love Mothers En Vogue Nursing & Maternity Clothes
Mothers En Vogue was the first brand at Milk and Love! We have loved providing Mothers En Vogue clothes for our customers since 2014 because their range is so flattering for new mums and mums-to-be, and the premium natural fabrics they use are so comfortable to wear and better for the environment.Â
Sharon, mum of 2, founded Mothers En Vogue in 2003 when she couldn't find any stylish nursing clothes to wear that were made with natural fabrics. The styles by Mothers En Vogue are designed to last and to be flattering for new mums.
Â
Â
Â