If you're looking for a wardrobe staple, here it is! Made to be worn on it's own, or layered under vests, jackets and loose tops, this wide neck tank top is a must have item for breastfeeding mums.
Made with 95% Organic Cotton that is Oeko Tek certified these tank tops are soft and durable. 5% spandex is added for shape retention and stretch.

Easy empire line breastfeeding access makes this perfect for everyday wear. Simply pull up from the empire line to access the nursing openings in the lining underneath.

These beautiful tank tops have a relaxed fit making them perfect for post partum wear.
Relax with easy wearing stylish Breastfeeding tops that you can layer over, or wear as is!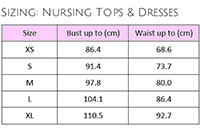 Gift wrapping:
Options are available
This is a comfortable and well fitted singlet. I actually love the colour- so much nicer than what my drab maternity wear was like. I use this top for nursing and the fabric is quite thick and good quality. Fits very well.