This is the long sleeve Turtle Neck version of our beautiful "Organic Breastfeeding Essentials" range with super easy breastfeeding access. The Organic Breastfeeding Essentials range is perfect for daily breastfeeding particularly if you are having any problems with attachment at the breast and need super easy access. Highly recommended for new breastfeeding mums.
Soft durable and hypoallergenic material with 95% Organic Cotton means you will never want to take it off! 5% spandex is added for easy wash care and durability.
Super easy nursing access with empire line openings. Pull material up to access the nursing openings and be confident with an inner cami lining from the empire line up to the neckline which makes discrete breastfeeding easy.

Wear with your comfy pants for beautiful colourful lounge wear and switch in your jeans when you need to go! Accessorise with one of our

colourful teething necklaces

and you have a beautiful functional outfit for every day wear.
Another great basic by Mothers en Vogue.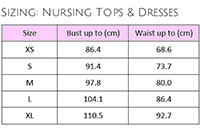 Gift wrapping:
Options are available
Excellent cut and quality
I was very pleased with this top, the fabric is good quality and comfortable, has great access for nursing, looks great, and the turtleneck collar keeps me warm! Absolutely love it.