For a limited time, buy any 2 items from the Breastfeeding Essentials range, and get your 3rd item for FREE!
Made by a breastfeeding mum to make day to day breastfeeding a breeze! These gorgeous organic cotton breastfeeding dresses feature easy nursing access and a simple design, making them perfect for layering and accessorising. We love these nursing dresses because they are so versatile.
This is the long sleeve Crew Neck version of our beautiful "Organic Breastfeeding Essentials" range with super easy breastfeeding access. The Organic Breastfeeding Essentials range is perfect for daily breastfeeding particularly if you are having any problems with attachment at the breast and need super easy access. Highly recommended for new breastfeeding mums.
Soft durable and hypoallergenic material with 95% Organic Cotton means you will never want to take it off! 5% spandex is added for eash wash care and durability.
Super easy nursing access with empire line openings. Pull material up to access the nursing openings, with an inner cami lining from the empire line up to the neckline to make discrete breastfeeding easy.
Wear with your comfy pants for beautiful lounge wear or switch in your jeans when you want to go out! Accessorise with one of our colourful teething necklaces and you have a beautiful functional outfit for every day wear.
Check out the 'Wide Neck' or 'V Neck' versions of this top for more colour options.
Another great basic by Mothers en Vogue.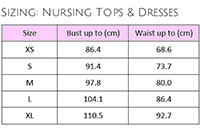 Gift wrapping:
Options are available
Sorry, there are no reviews for this product yet.