Beautiful fabric, a gorgeous range of colours and super easy nursing access make these Breastfeeding Singlets a must have for any nursing mum!
95% Organic Cotton makes these singlets extra soft and durable. 5% spandex is added for extra stretch and easy wash care
Drop cup nursing access, makes one handed breastfeeding a breeze. Simply unclip from the strap and drop the outer fabric to access the openings underneath. A inner lining means you still feel covered, even while you're breastfeeding.
These singlets are intended to have a relaxed fit, so they give you shape without clinging. Removable bra cups are also included so you can wear the singlet without any need for a bra underneath.
Perfect for layering under a loose top or jacket, or just to wear on their own.
You can read more about our breastfeeding singlets here.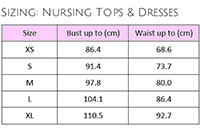 Gift wrapping:
Options are available
Sorry, there are no reviews for this product yet.