This flattering breastfeeding top is one of our personal favourites! A gorgeous draped front panel works as a nursing cover AND is super flattering to any post partum curves.
Made with lightweight bamboo fabric this top is super soft and flexible. The bamboo is luxurious to wear and breathable. 4% spandex added for durability and easy wash care.

The vertical front access is cleverly hidden under the draped front panel. Simply pull the front panel to the side and then pull down the neckline on the 'inner' panel to breastfeed.

The draped front panel is just gorgeous. Flowing down from the scooped neckline this elegant top gracefully disguises any post partum tummies while still giving definition through the back and sides.
Dress up or dress down this versatile top can be paired with your favourite jeans or with a tailored skirt and jacket for a more formal look.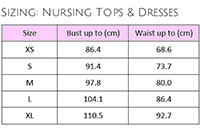 Gift wrapping:
Options are available
Sorry, there are no reviews for this product yet.