A beautiful tank top that plays nicely with everything else in your wardrobe, from jeans to pencil skirts. This Navy Breastfeeding Tank Top is designed to easily mix and match with your favourite pieces throughout breastfeeding and beyond. With a neutral navy colour and flattering design for post partum tummies, our customers love this style.
"I love this top I have it in 2 colours. Very comfy, lovely fabric, and hides my tummy!" - Milk and Love Mum
Good to know
Made with super soft and flowing bamboo to give you a beautiful breathable soft finish. with a touch of spandex is added for easy wash care and durability.
Cleverly made with two layers, simply pull aside the side seam of the outer layer to access the openings in the inner lining beneath.
Super flattering for post partum figures, the flow of fabric from the chest is gathered in at the bottom in a 'bubble hem' bottom.
The flattering design makes this one of our most popular tops. The natural fabric is lightweight and perfect for a hot summers day.
Eco Credentials
This top is made by eco-friendly maternity & breastfeeding brand, Mothers En Vogue. They are pioneers in beautiful breastfeeding and maternity clothes made using natural fabrics and minimising their overall environmental footprint. They are committed to environmentally friendly practices and have implemented initiatives such as using recycled paper tags and coconut shell buttons on their clothes.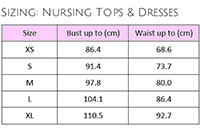 Gift wrapping:
Options are available
This top is comfy, and nearing my 3rd trimester, even fits over the baby bump! It's a very flattering style and the feeding feature has the slits in all the right places.
Gorgeous top - difficult bf access
This is a lovely top: very flattering to my post-baby belly and fits really nicely. BUT the breastfeeding access but is so tiny I end up lifting the whole top up most of the time, which defeats the whole purpose!
Material feels lovely on, shape is flattering even 5 days post partum. Sizing guide was accurate. Very happy with my purchase!
Very cute, very practical
I bought a pink one and I love it. Fabric feels lovely on, very flattering and fits well during my pregnancy and will be great for after when I'm breastfeeding.
Well Designed and Lush to Wear
I received my package with the bubble tank and V neck dress yesterday and loved what I found. They are both well designed and are so very lush to wear. The top I have found out is perfect for my shape, I am a medium waist but my chest most definitely should be in a large (haven't tried on many new clothes since baby arrived)! I was happy to order on line as the website was extremely clear and had a great size guide. I love the dressy even though a bit tight around the bust I have decided nothing a scarf wont hide. It was also sent promptly and was so nicely wrapped with a personal note. It was happily received.
Bubble Breastfeeding Tank
I love that this top is a breastfeeding top (nice not having to wear a maternity top to breast feed in). The fabric is beautiful - so soft! The only thing I have noticed is there are small amounts of pilling on the fabric after a few wears - not sure if this can be prevented due to the soft fabric. I hope to buy another one
love it! second one i've bought!
Absolutely love these tops -so comfortable and easy to wear. Love the feel of the material in our hot climate (Broome ). Only negative is I find the hole in the under garment too small and a bit fiddly when I am holding bub and trying to undo bra plus move breast through hole to get to bub as quick as I can!
I absolutely love my top! Both colours are lovely and will go with such a variety of bottoms. The fabric is so soft. The style is trendy and comfy to wear. I'm usually a size S or M and I ordered the M which is a perfect fit for me.
I'm xs/s with over generous bust and took the S. The style means it doesn't really matter I'm sure I could have gone either way as I'm finding out that the range is very understanding of mothers changing growing shape during pregnancy and beyond. This is really a very light material and so comfy to wear. The style means that I don't feel I need to "breathe in" to give myself that better shape after pregnancy. I can relax feeing good that my wobbly bits are hidden well. What is the most wonderful thing about this top is that it really is fun to wear and you look and feel up to date while having the discreet feeding access.
This bamboo top is fantastic when u live in the tropics! So comfy and soft, looks great on and lots of people comment on how nice it is! Would definitely buy more if more colours available. The sizing is a 'true fit' too as quite often it is hard to guess when buying on the net. Very pleased with the purchase and well worth the $.