Looking for a fitted nursing top that doesn't cling? Check out this gorgeous style, made with 95% pure cotton for comfort and with stylish detailing down the one shoulder.
Made with 95% cotton for pure comfort, this top is breathable, and perfect for fluctuating body temperatures. 5% spandex is added for easy wash care and durability.

Easy and discreet neckline access means you can simply pull down from the neckline to access the openings in the lining underneath - your chest and tummy stay covered the whole time.

Beautifully shaped silhouette gives a fitted finish without clinging, perfect for everyday wear.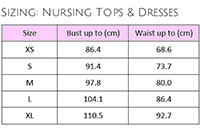 Gift wrapping:
Options are available
Lovey, soft and quite flattering. True to size also. Easy access to feed. Looking forward to wearing it. Will definitely purchase from Milk and Love again.
I recently wore this shirt for a photo shoot with our new Bub. It's very comfy as the fabric is soft and lovely to wear. Easy to breastfeed in when out and about too.
So pretty and great quality
Very pretty top and beautiful quality jersey fabric that doesn't cling to lumps and bumps! I've been so impressed with milk and love quality much nicer than other breastfeeding stuff I have bought online where the knit starts to bobble after one wash. definitely worth the higher price tag for a quality products that will last and I will definitely be wearing this top past breastfeeding!
This top is lovely to wear - easy feeding access and true to size.
Comfortable, feminine and flattering
This top is comfortable, feminine and flattering for post-partum figures - it is slimline but skims over the post-baby bulge!