Our BESTSELLING Sangha Waterfall Wrap is back this year in a gorgeous new range of colours. Great for Maternity, breastfeeding and more, this soft and luxurious bamboo cardi / wrap is a stylish addition to your wardrobe.
Beautiful flowing bamboo fabric is simply gorgeous to wear. A touch of spandex (5%) is added to make this material easy care and flexible

Flattering to all body types this waterfall wrap is a stylish addition to wear over your favourite outfit perfect for a little extra warmth or a nursing cover!

The edges of the wrap feature buttons to fasten across your body to use as a breastfeeding cover. Or drape it however you need for lots of flow.
Check out the video below from Mothers en Vogue for some great ideas on ways to wear this versatile wrap or click here to see it on a 'real' person on our Daily Style blogs.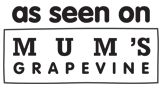 Gift wrapping:
Options are available
I love this wrap! I ordered the taupe thinking it couldn't possibly be as good as all the reviews here, but I found myself wearing it every day and loving it so I have just purchased another in blue! It is incredibly soft and comfortable and looks great with most things. wonderful service from Milk and Love too. Thanks!
Simply beautiful and soft to touch. The fabric is so comfortable and light-weight yet enough to keep you warm on a mild day. Very flattering and goes with pretty much everything!
Absolutely love it.
Drape beautifully, just like on the pictures. And love the earthy colour.
Great product and great service!
I love this bamboo wrap, it's so versatile! You can wear it to work or casually, and perfect for discreet nursing or if your little one is prone to distraction whilst feeding. The bamboo fabric feels gorgeous and I'm so pleased it goes up to extra large. The service from Milk and Love was outstanding, they answered my query promptly, and my wrap arrived the next day wrapped like a present complete with a hand written note! I am a thoroughly satisfied customer.
This wrap feels beautiful on but my complaint with it is not enough options for fastening the buttons. I haven't found it as versatile as is suggested and think it could be improved with an option to hook up on the shoulder. There is only one button option which is not necessarily the way I like to wear it, so I leave it open. As a shorter person, leaving it open looks silly on me, so I'm really not getting the wear out of it I hoped. Probably good just for home or if your tall.
I borrowed this wrap from my sister while she was visiting me in Canada, and I immediately went online to buy my own! I was so happy this site offered international shipping! This wrap is amazing, so soft, so flattering, SO comfortable!! Absolutely love it! The service on this site is superb, shipping was very fast as well. I'd say the sizing runs just a tad big, I'm usually a medium and definitely could've gotten the small in this one. Guess I'll just have to buy another one! ;)
I love this wrap, the fabric is amazing, so soft and flowing. Im thinking of buying a second in a different colour. Service has been superb. Very personal for an online order and delivery was super quick
The fabric used to make this top is beautiful and you can wear it so many ways which is awesome. I wish i had of ordered a little earlier so that i could get it in more colours. It was also super quick to get to me, i had it within a couple of days of ordering, fabulous!
Super soft and very versatile
This cardigan/wrap is made of very soft material but is heavy enough to drape nicely. There are buttons to allow the sides to be pinned up for a breastfeeding cover. I purchased this wrap for travelling on a long flight with my <6month old baby as I think it will be perfect as a breastfeeding cover and to keep me warm. It looks stylish and can be worn with lots of different outfits, I love it!