Boob Maternity Bras are European styles. You can measure yourself using the chart below to help ensure you get the right size.
FIND YOUR BRA SIZE
Bra sizes normally consist of a number and a letter (for example 75C). The number shows the size of the underband and the letter represents the cup size.
Once you have found your size (number and letter) you can consult the chart below to see which size to order when buying a Boob Seamless BH. First you need to take your measurements. So find a tape measure, put on a soft unpadded, non-wired bra, and breathe out!
Taking your measurements
Measure across the fullest point of your bust (A) and measure under the bust (B).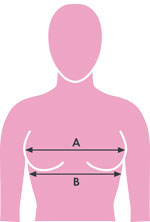 1. Size of underband
The under-bust measurement (B) shows the size of your underband.
Underbust

Measurement

AUS

Size

EUR Size

(Boob size)

68-72 cm

10

70

73-77 cm

12
75
78-82 cm
14

80

83-87 cm

16

85

88-92 cm

18

90

93-97 cm

20

95

98-102 cm

22

100
2. Cup size
The difference between the measurement across the fullest part of your bust (A) and the under-bust measurement (B) gives your cup size:
Difference between A and B

Measurement

Australian

Cup Size

EUR Cup Size

(Boob Bras)

12-14 cm difference
A Cup
A Cup
14-16 cm difference
B Cup
B Cup
16-18 cm difference
C Cup
C Cup
18-20 cm difference
D Cup
D Cup
20-22 cm difference
DD Cup
E Cup
22-24 cm difference
E Cup
F Cup
3. BOOB Size Guide
Work out your Boob Maternity Sports Bra Equivalent size.
| | | | | | | | | |
| --- | --- | --- | --- | --- | --- | --- | --- | --- |
| EUR Size | | 70 | 75 | 80 | 85 | 90 | 95 | 100 |
| | AUS Size | 10 | 12 | 14 | 16 | 18 | 20 | 22 |
| A | A | S | S | S | M | L | L | |
| B | B | S | S | M | M | L | L | XL |
| C | C | S | M | M | M | L | L | XL |
| D | D | M | M | M | L | L | XL | XL |
| E | DD | M | M | L | L | XL | XL | XL |
| F | E | L | L | L | XL | XL | XL | |
| G | F | L | L | XL | XL | XL | XL | |