Posted by Rosanna Paul on 18th May 2018
Winter is by far my favourite fashion season. Layers of woolly knits, leather jackets, scarves and a daily dose of denim all appeal to me in a way that dressing to keep cool and minimising the sweat factor never will (unless of course we are talking summer holiday wardrobe - but I'll save that for another time). Layering right can also change your proportions and for long bodied, short legged, mum tum little me, a bit of extra fabric, in the right places and proportions, can really work some magic.
But then there is the challenge of trying to keep warm, while breastfeeding!
At home, during the day this is not such a big deal. You can dress minimally and be ready to feed at a moments notice...the original and healthiest version of fast food! But if you ever want to leave the house then a little bit of planning may be required, particularly if your clothes are not FF (feeding friendly). Having to half undress when there is a wind chill factor (and an audience) does not make for a relaxed breastfeeding experience. Some clever purchases and layering are often needed!
Here are some of our top tips that will keep you covered when the temperature drops.
Breastfeeding Access 101
Buying the right nursing tops and dresses will ensure you can easily breastfeed wherever you are, however, not all breastfeeding clothes are made equal.
Many of the brands we stock at Milk & Love are designed by mum's for mum's so they really understand the type of stretch and construction needed around the bust for babies to easily access their dinner quickly and for mum's to be able to do this, more often than not, with one hand!
Types of Breastfeeding Access Styles available
Empire Line breastfeeding access is the most simple design. Fabric sits over the bust and simply lifts up (horizontally) so your baby can have access. Your chest and tummy stay covered and keep warm. Good design will ensure there is enough fabric so that it doesn't gape when you lift up your arms. Often you can't even tell that it is a nursing top.
Side Seam is also an excellent choice for winter because chest and tummy remain covered. Overlapping fabric or concealed zips allow vertical access on either side of the nursing top. Simply pull across or unzip to feed your bub.
Vertical Front nursing access is very similar to Side Seam except it has one central zip or overlap which enables you to undo or pull across and feed from either side.
Neckline Nursing access also keeps you covered. Fabric is pulled down from the neckline, however there is a layer underneath that remains in place so your chest area is not exposed.
Drop Cups work particularly well on singlets layered under other shirts. They can also be worn on their own in summer but mutliple layers are very welcome when it's colder and allows coverage to be maintained. The great thing about this (in a singlet design), is that if you don't need extra bust support, this can be worn without a nursing bra or instead of.
Breastfeeding Tops for Winter
Breastfeeding Tops are a simple way to change your look each day, particularly when you are still wearing maternity jeans, and are not ready to invest in new bottoms. The best nursing tops allow easy access, keep you covered and enable you to feed anywhere.
Keeping warm in winter can be as simple as:
Adding some Long Sleeve Nursing Tops. These are readily available and a great way to add warmth.
Don't think that Nursing Singlets are just for summer. These can be worn under regular tops or shirts.
A top tip from our Milk & Love Community is to choose longer Breastfeeding Tops so tummies and backs don't catch a draft.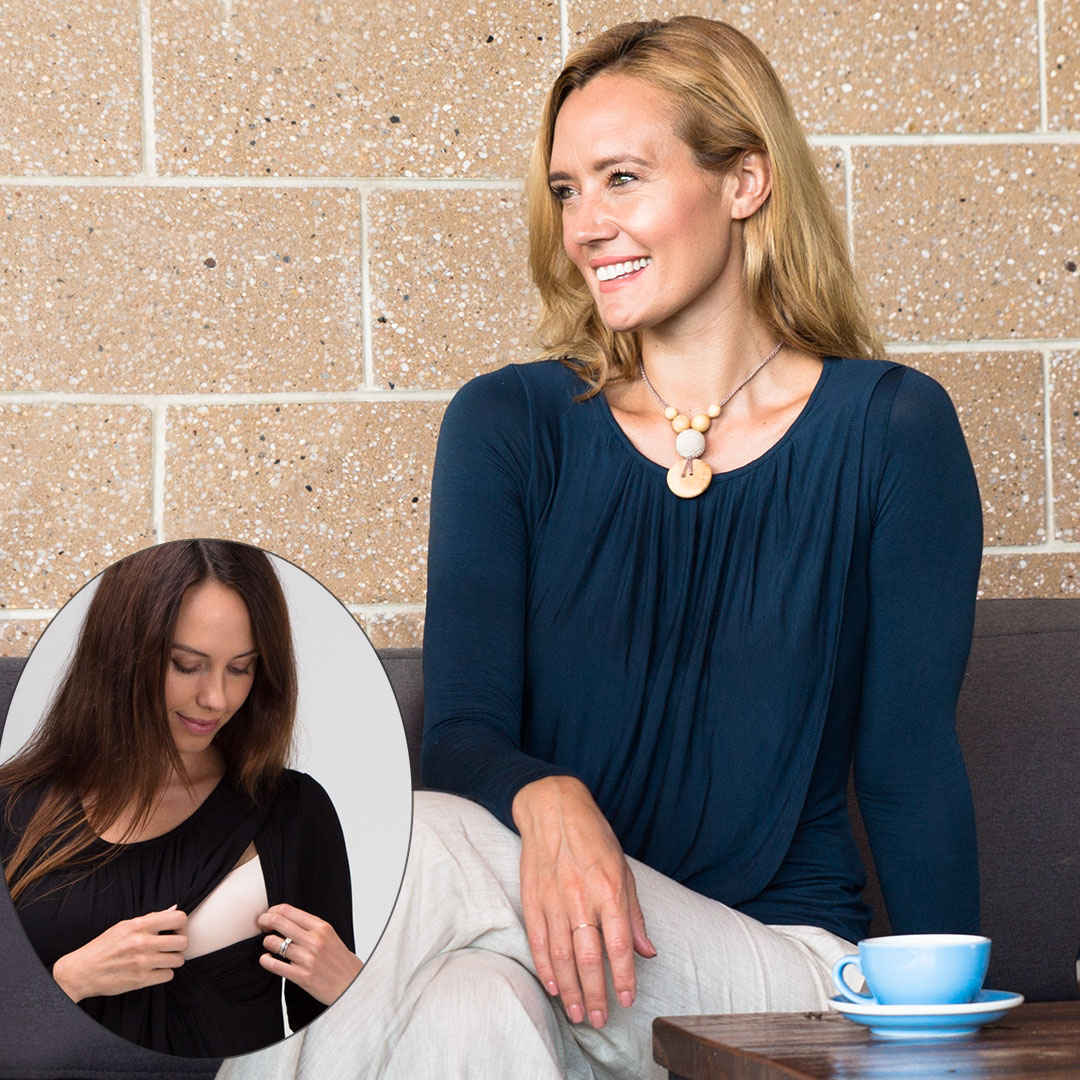 Winter Nursing Dresses - A one stop milk shop!
Once upon a time, in a not so distant past, nursing dresses were not a thing and certainly did not come in a plethora of beautiful designs. Designs that you actually want to wear (even when not breastfeeding)! Alas, I can remember having to banish my lovely non-nursing dresses to the back of the closet because there was just no way for a ravenous baby to get into them!
Yeah to the invention of amazing Nursing Dresses. They are just so easy to wear. No consideration needed as to what top works with what bottom. Simply throw it on and away you go. Add a jacket or leggings and boots for cooler weather.
Feeding friendly dresses allow you to add layers over the top and your baby can still reach his/her breakfast, lunch & dinner at any hours of the day or night!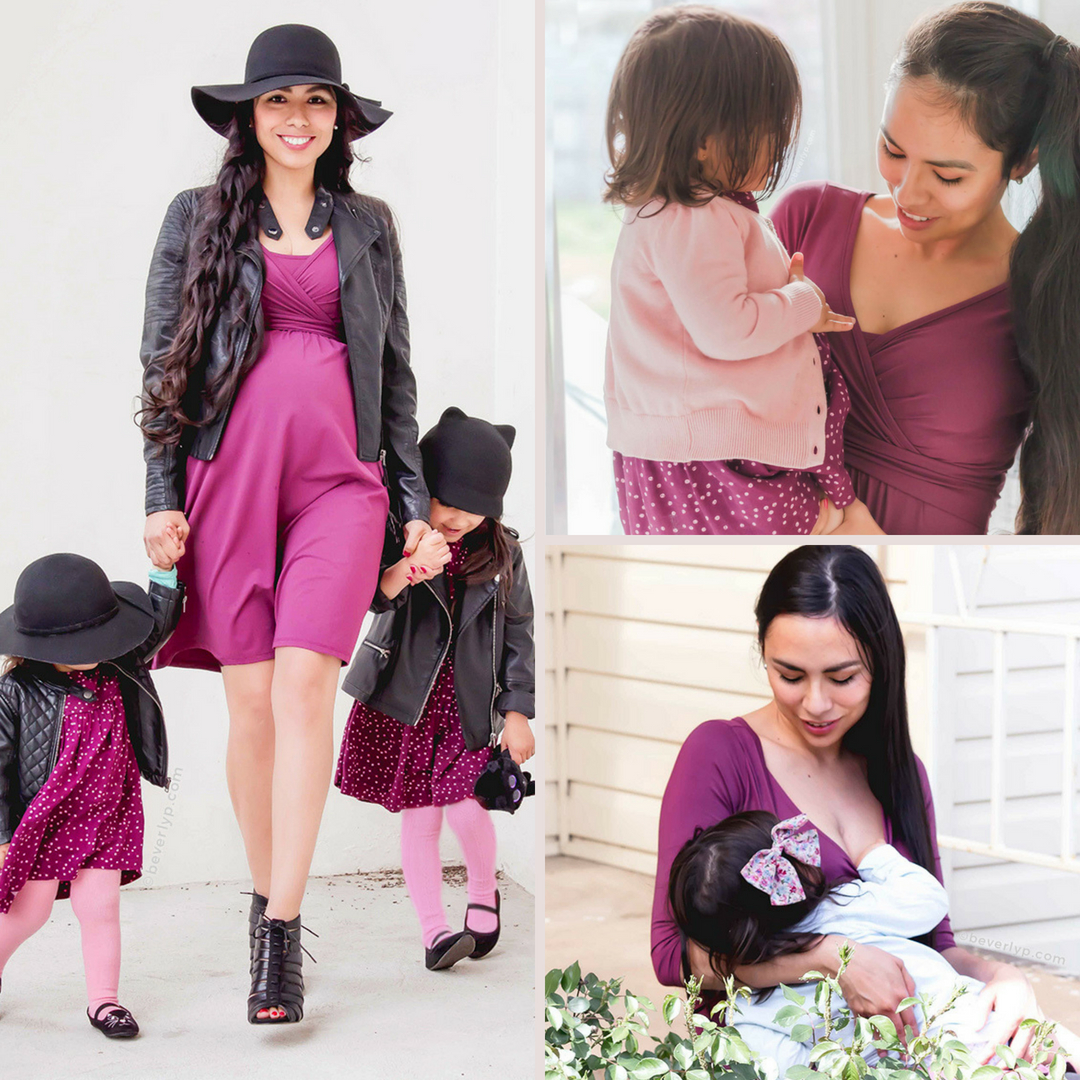 Do also consider...
Turtle necks & Midi and Maxi nursing dresses! The extra fabric will keep you warm and on some days require no extra layers.
Buying summer dresses in winter. As long as the fabric isn't too thin you can easily layer these and continue to wear them as it gets warmer. This is a savvy way to shop and also means you can sometimes strike a bargain by buying in the off season!
Breastfeeding Jumpers & Winter Layers for Nursing Mums
The wonderful thing about layering is that you can convert summer nursing dresses and tops to winter...and when you've invested in these you should get as much wear out of them as possible.
The number one rule for adding layers is to ensure you can still easily access your breastfeeding top or dress. Jackets or anything with a front that can be undone are ideal! Ensure any fitted jumpers (pullovers) have enough stretch to allow you to pull it up and out of the way while still leaving you covered.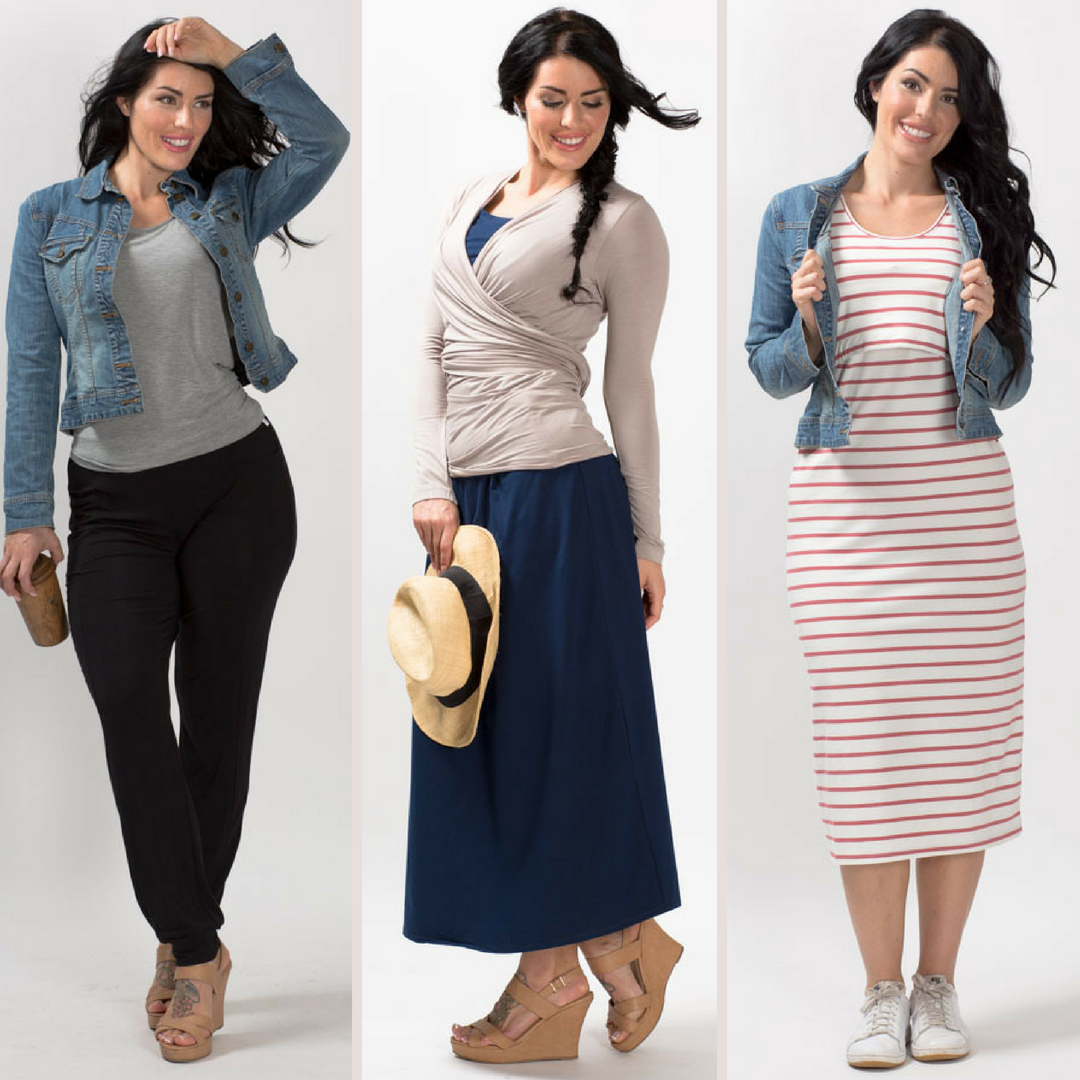 Some more layering ideas...
Nursing Scarves can add a little warmth and extra coverage on those days that you don't need a lot or the weather looks unpredictable. They also add extra colour to a more neutral wardrobe and can dress-up or change your look. Heavier or lighter weight fabrics change the warmth factor and choosing organic means babies faces and fingers can safely touch and nuzzle into the scarf.
Wraps and Cardigans are a great piece to throw on, even over a Nursing Singlet. When made with lovely soft quality fabrics they can really add a bit of luxe and make an everyday outfit 'date night' worthy.
Breastfeeding Jumpers are another modern day innovation with both empire and side seams available. The great advantage of this style is that you can keep your front covered and not have to brave the cold or catch a chill. Hoodie styles with this type of access are perfect for those cold winter mornings to grab and go for a walk with bub and enables you to stop for a coffee, and a quick and easy feed if needed.
Nursing Clothes for Occasional Dressing
Winter weddings and other such dressy occasions, when bub needs to come along (or you need to express), can be challenging. That's where you need a LBND (Little Black Nursing Dress). The Little Black Nursing Dress is your perfect go-to for a multitude of events.
Ensure you choose quality fabrics and a classic fit because this Breastfeeding Dress is going to be working very hard for you.
Add...
For evening | Amazing Shoes, Jewelery, a Clutch, an up-do and your perfect shade of red lippie!
Lunch | Tan Boots a Jacket and the glow of new motherhood (trust me you have it, even if you don't feel it).
Work | Tights, Heels and a 'take no prisoners' attitude!
Keeping it Casual | Denim Jacket, White Trainers and a messy pony.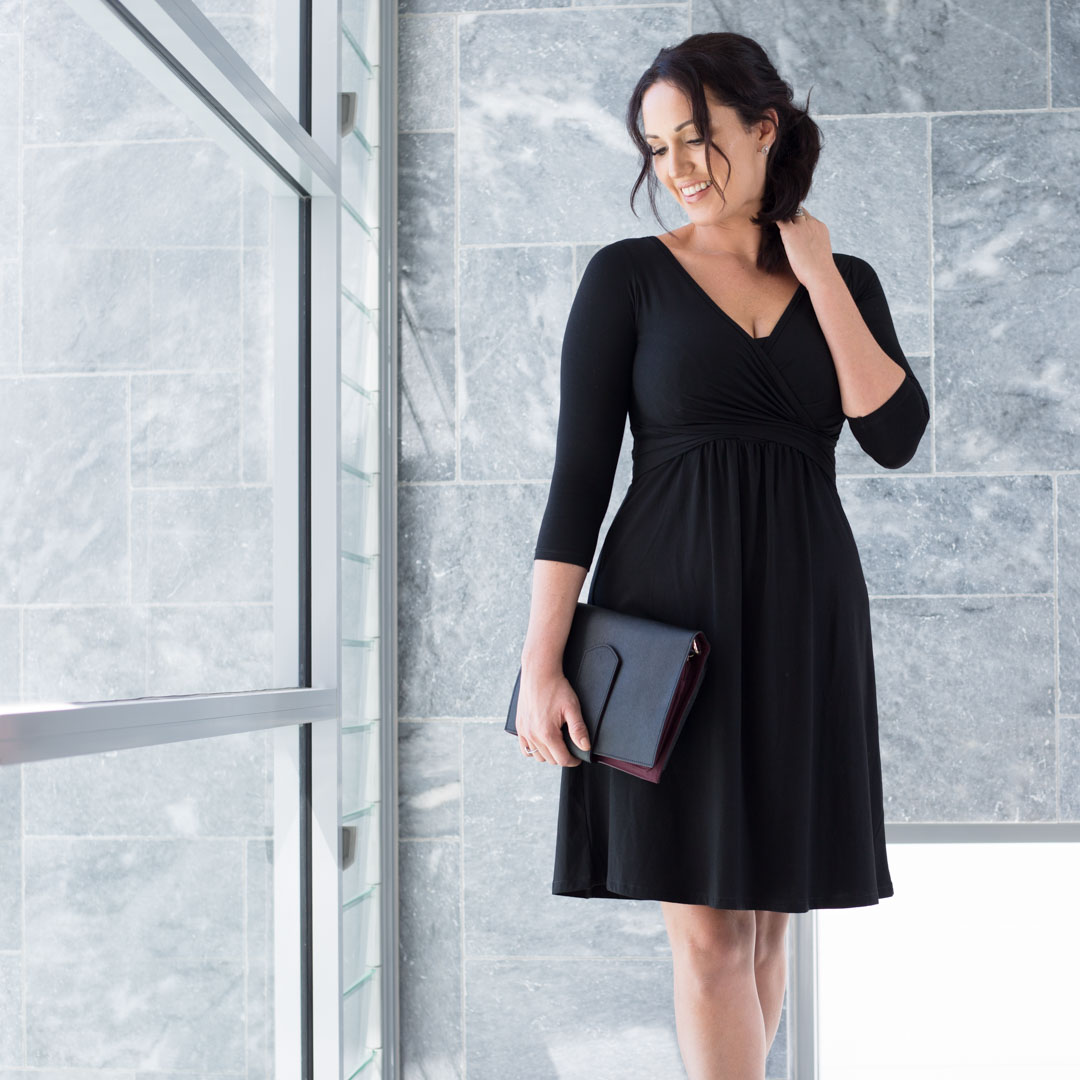 Keeping warm during nigh time feeds...
My last baby was born in May. That first night home and the first cry in the middle of the night I took a deep breath and thought right, let's get on with it then. This was not my first rodeo and I knew a lot of what was ahead. Lots of feeding through the night and while I love winter fashion (and nursing my babies) I really detest the cold. I'm famous for it (in my family). But babies need to be fed and breasts need to be bared.
Wherever you may choose to feed your baby, ease of access and being covered is really important because it's cold in the middle of the night (and 2am and 4am)! The right nursing sleep bra's, tops and things to throw on make all the difference between staying warm, and a minimum of complaint from your little one, to freezing your @#$% off and awakening the whole house.
Some nightime nursing tips...
Sleep Bra's are not just a nice to have. They allow you to slip in breast pads and there are no tricky mechanisms. Simply pull across and feed. Wear under a loose top for comfort and ease.
Nursing Singlets or a Caminurse are also great because they are comfortable enough to sleep in but also keep you covered and allow for breast pads.
If you need to get up for nightime feeds, a Robe or Wrap is great to quickly throw on and you can also wrap this around bub for extra warmth and snugness.
Our Milk & Love Community advise using heat packs for nightime (for mum). These are also great for achy backs and can really make a difference to how you feel on a cold morning.
That's a wrap! (Pun intended.) Don't let the cold weather stop you from getting out and about. You can still feed your baby and stay warm and comfortable. Please share your ideas and tips for keeping warm in winter with a nursing bub. We'd love to hear what works for you.
---
About the author
Rosanna is a mum of 4 who has always loved fashion, lives for school holidays, and finds it impossible to put down (or not binge watch) a good story. She loves to help customers create a functional wardrobe that makes it easy and enjoyable to get ready in the morning, while have something to wear for every occasion, and most importantly, feel lovely and stylish. Read more about Rosanna here.
---