Posted by Maternity Style Expert on 14th Jul 2017
When you get to that point in your pregnancy when you dread pulling on your skirt or doing up your pants button you know it's time to get serious about your maternity clothes for work. It's a great idea to buy good quality maternity clothes that you can wear throughout your pregnancy and afterwards, you'll find them so much more comfortable. Plus if you stick to some key pieces, you'll be able to mix and match them and your cost per wear will be nice and low.
Classic neutral colours with simple accessories always looks polished.
Always look for natural fabrics
As much as possible, stick to natural fabrics. When you're pregnant or breastfeeding your body is working hard to create a baby or nourish a baby, and you'll find that your body temperature tends to be higher than usual. You may also find your skin is more sensitive than usual, or drier. Clothes made with natural fabrics such as Cotton, Bamboo, Modal, or Tencel are all soft and allow your skin to breathe - the air flows through them easily and they don't trap sweat or bacteria the way that synthetics like polyester do. This helps to regulate your body temperature and also helps to avoid irritating your skin.
Remember to avoid chemicals on your clothes, especially when you're pregnant or with a newborn baby
If you're finding your skin is particularly sensitive, buying good quality fabric that is either Organic or Oeko-Tex certified means that it has been tested to make sure there are no harmful chemicals on the finished product. Always make sure you wash your new clothes before wearing them (after trying them on for fit!) to minimise the amount of chemicals on the clothes from the dying, manufacturing and transporting. Clothes from China have the highest rate of skin irritation court cases in Australia and when you're pregnant you're particularly sensitive. Choice Australia published this informative article on chemicals in clothes that is worth reading (read here).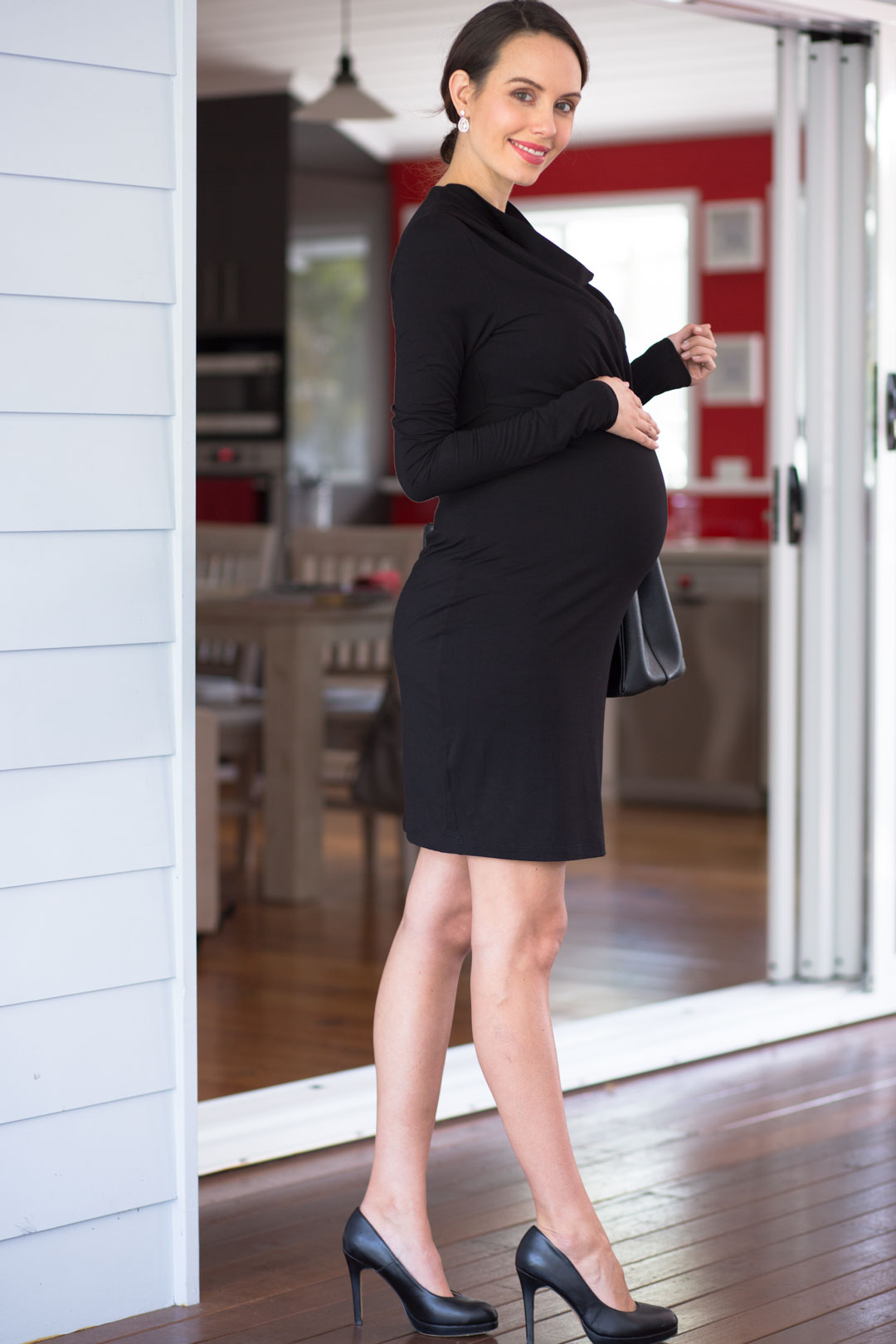 It's a great idea to buy clothes that also have breastfeeding access, so you can continue to wear them after baby arrives, and for easy pumping access if you need to go back to work and express breast milk.
How to pick Maternity Work Clothes you'll love to wear (over and over and over!)
Where to start? First, start by examining your current work wardrobe. What do you love wearing and what do you hate? If you love wearing pants day in and day out, then invest in a couple of pairs of pants. Alternatively, you might be more of a skirt or dress type of person. Whatever makes you feel empowered and fabulous when you're at work is what you should base your wardrobe around. It is a good idea to buy them early in your pregnancy so you can get more wear out of them (and feel more comfortable!).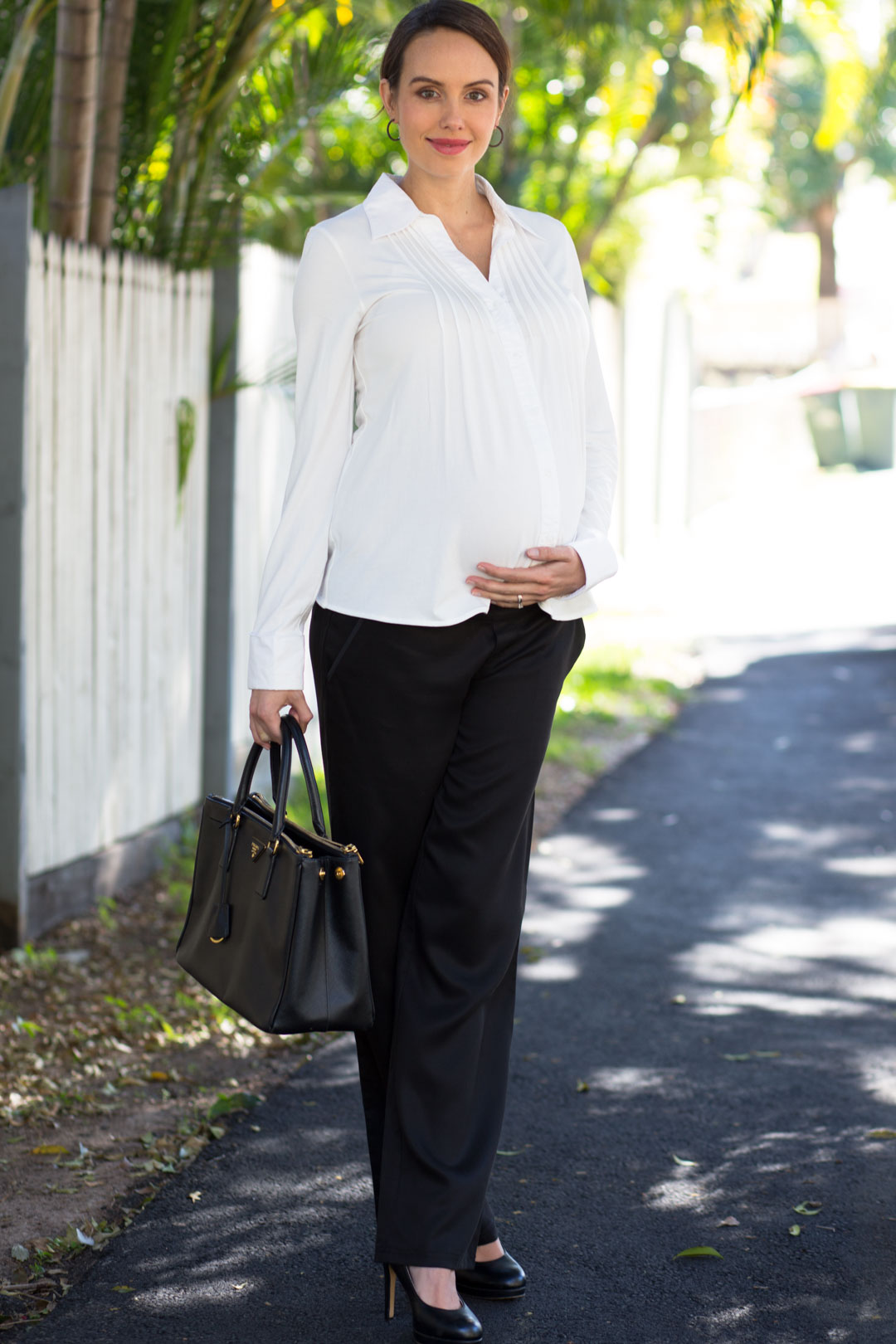 We love white button up shirts for pregnancy and beyond.
This classic style of shirt never goes out of fashion!
Classic colours and neutrals
Examine your existing work clothes for colour patterns and work your maternity clothes around those. Do you tend to wear navy, black? Buying your core pieces in neutral colour tones that match will make it easier to mix up new looks. You can then add more colour with bright accessories like scarves or necklaces, or a couple of statement tops that can mix and match in with your neutral core items.
Get inspiration from bloggers and instagram
You might come across a new way to wear a top, or a new way to wear a belt over the top of your bump when you do a bit of a search on Pinterest, Instagram or via fashion bloggers. This can help to mix up your wardrobe in a whole new way. Check out our video below for some Maternity Work Clothes that we love in a series of outfits that are stylish and comfortable:
Shop Maternity Work Clothes here: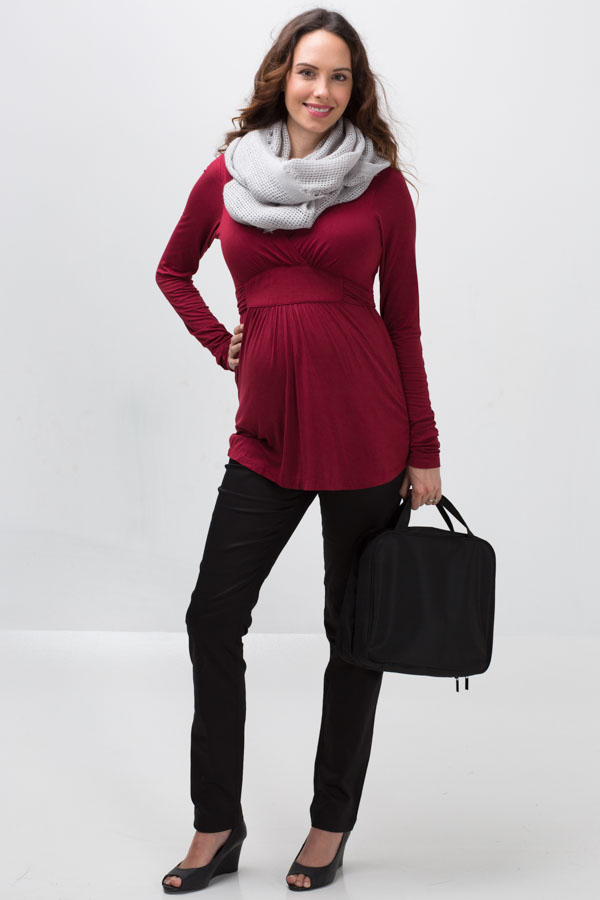 Bonita Top in Red with Slim Fit Comfy Cotton Sateen Pants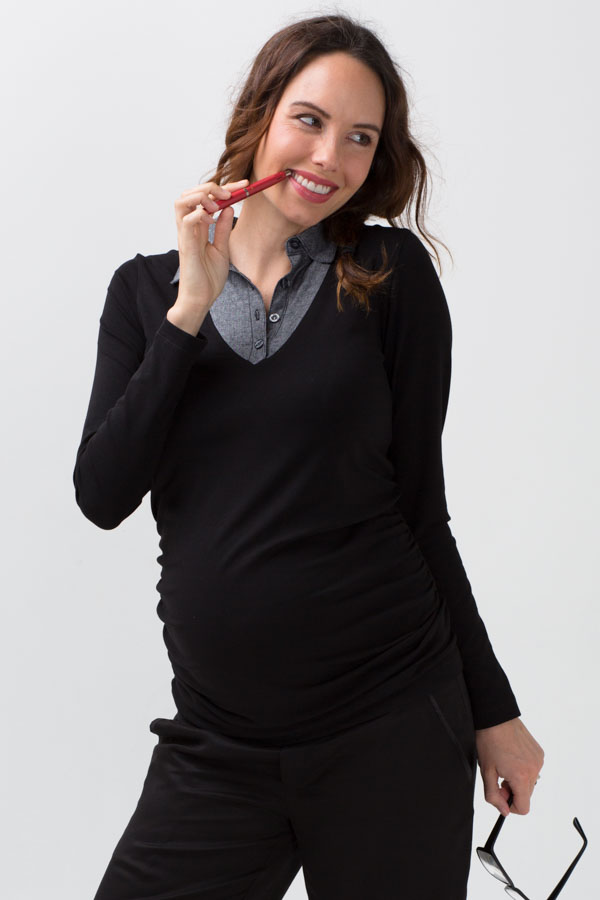 Perfect Fit Maternity Shirt in Black with Relaxed Fit Pocket Pants
Perfect Fit Maternity Shirt in Grey with Stylish Maternity Work Skirt in Grey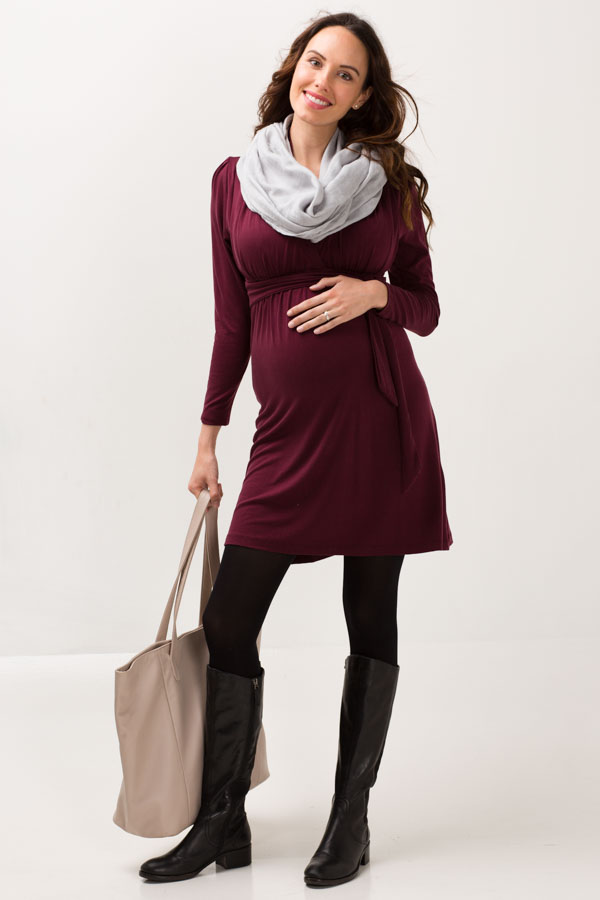 Lauren Dress in Marsala Red with Leggings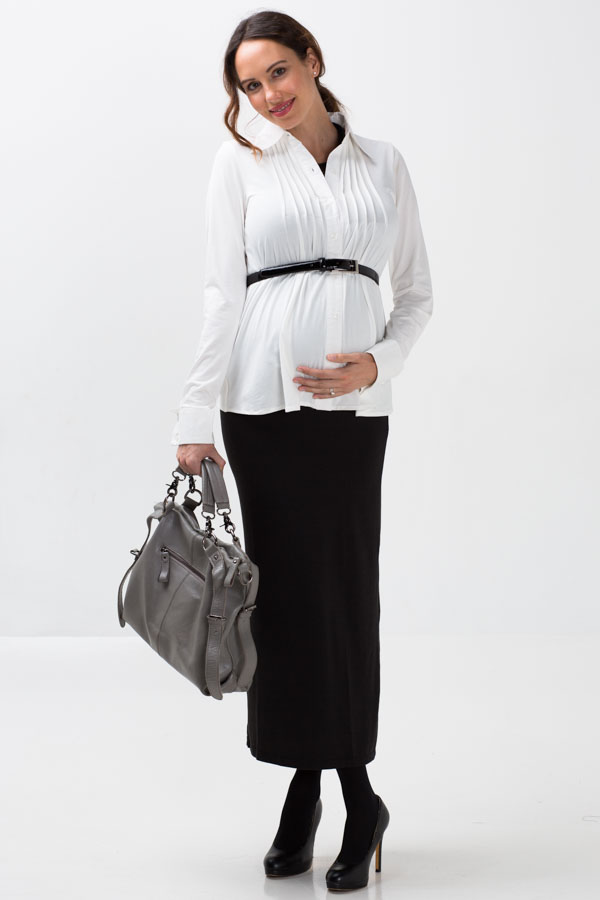 Soft Jersey Cotton Shirt with Black Maxi Skirt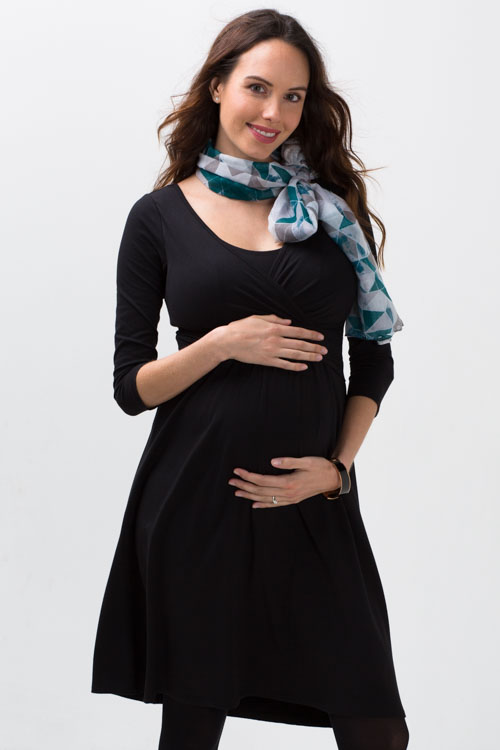 Wrapped in Love Maternity & Feeding Dress