Posted by Milk and Love team on 22nd Nov 2018
Finding a supportive sports bra that fits like a glove and supports you when you need it most is hard enough at the best of times. When you're pregnant or breastfeeding you have the added challenge of trying to find a maternity sports bra that will fit as your breast size and chest size continue to change throughout pregnancy and post partum.
In fact, 10 years ago it was impossible to find a maternity workout bra that had breastfeeding access, you had to flip the whole thing up to be able to nurse your baby. I have vivid memories of having to breastfeed my first baby next to a busy footpath and pulling up my sportswear and bra to try and attach without showing everything off to everyone passing by. Challenging!
Lucky for us there are now some great brands inspired to make pregnancy AND breastfeeding easier when you're wearing your activewear (which is almost always!).
The three steps to find the right maternity sports bra are:
Understanding what to look for at different stages of pregnancy and post partum
Measuring yourself correctly, and
Choosing a style suitable for the level of support you need.
1. Buying a Maternity Sports Bra at different stages of pregnancy and post partum
Although every body is different, and changes differently through pregnancy you should be aware of the following common changes.
First Trimester
The shape and size of your breasts may change quite dramatically in the first trimester, and for other women they may not change at all! You are safe to continue wearing your normal sports bras at this point if they are still comfortable, although if any underwires are digging in you might want to consider buying something that fits better.
On average a women's cup size will increase by 2-3 sizes over the course of pregnancy, but some women will increase a lot more than this, and some won't change much at all. Some will change early in the pregnancy and some not until the third trimester!
If you want to buy a new sports bra at this point I would recommend buying one with light to medium support that has some room for growth and is comfortable to wear. That doesn't mean buy a bra that is too big though! You should make sure you can do up the back clips to the tightest level (so you have room to expand), and that the cup size is generous but still supportive. Your breasts are likely to grow from here!
If you need a bra with firm support try to follow the same principles (tightest clips and cup size that isn't too firm), however because you need firm support you may find that there isn't enough room in this bra when you get to the final months of growth during pregnancy. On the other hand, a bra that fits firmly during the first trimester may be a good fit once you get to 3 or 4 months post partum (or earlier if you aren't breastfeeding).
Second Trimester
Most changes to your breast size have normally occurred by 4 months gestation so this is a great time to buy a maternity sports bra as the size won't be fluctuating quite as much! You are also hopefully feeling more energetic and have recovered from any morning sickness so you're likely to be more inclined to exercise as well. Happy days!
From this point onwards, the main change is your belly and rib cage which are expanding to accommodate your growing baby, so you do need to allow room in the chest size.
If you're at the start of the second trimester, make sure that your bra has plenty of room for growth and the clips can be fastened on the tightest setting. If you're at the end of the second trimester you want the clips to fasten at around the middle, so that you have room to grow a bit more, but also the ability to tighten it back up post partum.
Third Trimester
You're nearly there! You will continue to experience an expanding ribcage, so if you're at the start of the third trimester you want to be fastening the clips at about the middle of the range so that you have space to expand, but also the ability to tighten it up post partum. If you're closer to the end of the third trimester it is best to buy a bra that fits on its widest setting so that you can tighten it up post partum.
Your cup size will probably grow after birth when your milk comes in, so it is best to get a bra that isn't too firm in the cup size so there is room. If you're in between cup sizes, go up a size at this point.
0 – 6 weeks Post Partum
Congratulations! You have a beautiful new baby (or babies!) and are likely to be completely absorbed getting to know this beautiful new soul for the next 6 weeks. Exercise is not recommended during this time while your body recovers from birth. It's a good idea to have some recovery shorts or supportive leggings to support your abdominal muscles coming back together after birth (more important the more babies you have!).
You will probably be wearing something with super easy breastfeeding access for these 6 weeks because newborn babies tend to nurse every 2 to 4 hours (i.e. almost all the time). We love breastfeeding singlets for this stage (just pop in some breast pads for any leakage and add a loose shirt over the top when you have visitors!).
6+ weeks Post Partum
You're hopefully feeling that you have more energy and your body has had time to heal and recover from birth. Once you've had your 6 week check up with your doctor (and checked in with a physio if you want to) you will likely be wanting to start getting back into some gentle exercise, even if that is just a walk around the block to start with.
Your breasts should be more settled in size now with usual fluctuations when you're breastfeeding, and your ribcage will have reduced, although may continue to reduce for some women. If you're measuring yourself for a sports bra at this point, try to make sure that the hooks are set to a loose setting so there is room to tighten further if needed and ensure that the cups are not cutting in or restrictive in any way. The main risk is that if milk ducts are cut off they may become blocked, and cause discomfort, or in some cases, mastitis.
2. How to measure yourself for a Maternity Bra or Nursing Bra
To measure yourself for a maternity or sports bra you will need either a tape measure, or a string that you can use to measure yourself and then measure against a ruler or measuring tape to work out the size.
Measuring your underbust: Stand straight and breathe out before taking this measurement. You need to measure around your chest, just underneath your breasts, in a straight line. It is helpful to use a mirror to make sure that the tape measure is parallel to the floor the whole way around and not riding up at all. Record the measurement in centimetres.
Measuring your overbust: it is best to measure this over the top of an existing bra that isn't padded. You need to measure at the fullest part of your bust, normally over the nipple and make sure that the tape measure is parallel to the floor the whole way around (you'll need to check in the mirror!). Calculate the difference between this measurement and your underbust measurement to find your cup size. Record the result in centimetres.
Use the table below to identify your Australian bra size. You may need to try a size up or down if possible, to get a perfect fit, however these measurements should be a good place to start! Different styles and fabrics will fit differently on different women, so don't be afraid to try a couple of styles and sizes to get the perfect fit.
Underbust Measurement
(inches)
AU Size
26-27
8
28-30
10
31-33
12
34-36
14
37-38
16
39-40
18
41-42
20
43-44
22
Overbust - Underbust
difference (Inches)
Cup Size
0-1
A
2
B
3
C
4
D
5
DD
6
E
7
F
8
FF
9
G
10
GG
11
H
12
HH
13
J
3. Choosing the right Maternity Sports Bra Style
There are so many options on the market for Maternity Sports Bras these days, it can be confusing when you start to look for one to suit your needs. We've rounded up our favourite brands and styles and listed them below in order of support. All of these Maternity Sports Bras will do double duty, supporting you through pregnancy, and with breastfeeding access built in for after birth.
High Support Maternity Sports Bras
1. Cake High Impact Maternity Sports Bra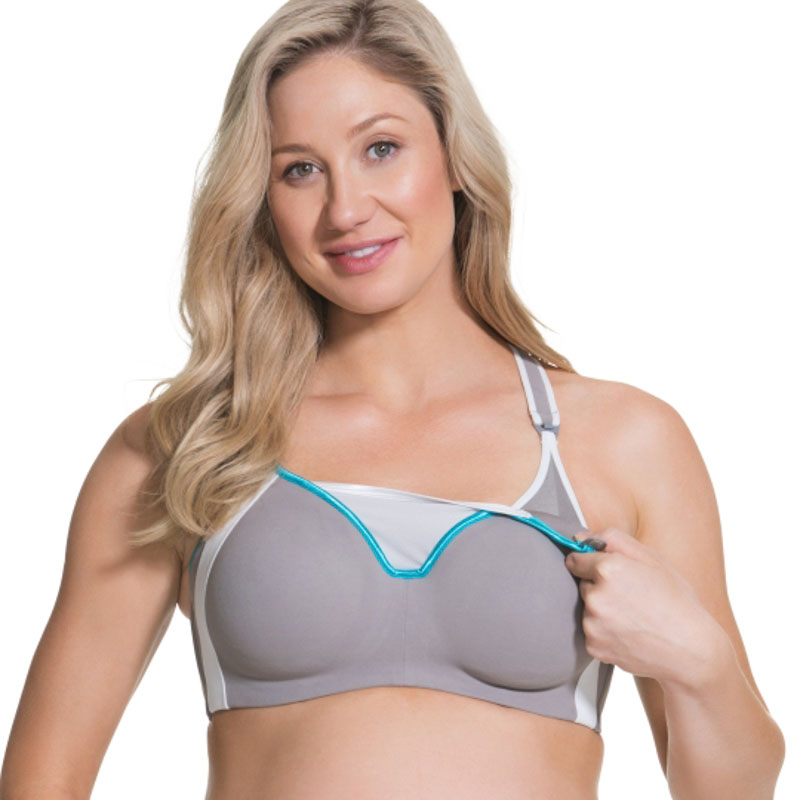 This high quality bra is the most supportive we've found for pregnancy and breastfeeding. Made with the best available fabric and reinforced stitching, this Cake Bra is designed to last. A huge range of band and cup size combinations means that you can find the perfect fit for your shape. Perfect for providing maximum support and comfort.
Cadenshae Maternity Sports Bras
Cadenshae has 3 high support maternity sports bras to choose from, with different sizing information for each one. Each of these styles is made for slightly different sizes. Each size is designed to suit a range of cup and band combinations, shown in the tables on the product pages. If your size is not listed in the charts, we recommend the Cake Maternity Bras which are designed for a wider range of band and cup sizes.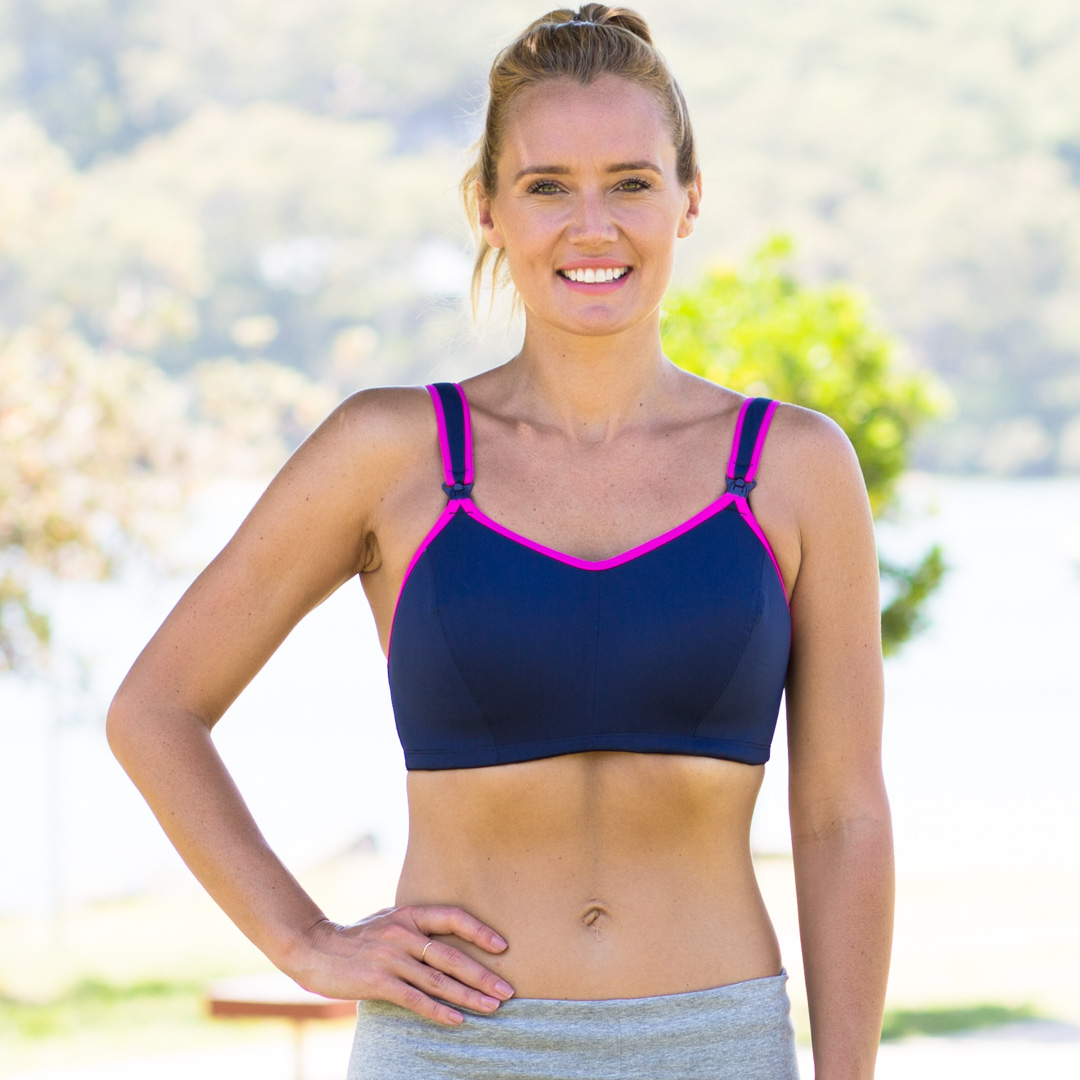 2. Ultimate Maternity Sports Bra by Cadenshae – made for DD+ cup sizes
3. Swift Maternity Sports Bra by Cadenshae – made for a full C cup up to E cup
4. Fit2Feed Maternity Sports Bra by Cadenshae – made for up to D cup sizes
SHOP CADENSHAE Maternity & Nursing Bras
5. Boob Design Fast Food Sports Bra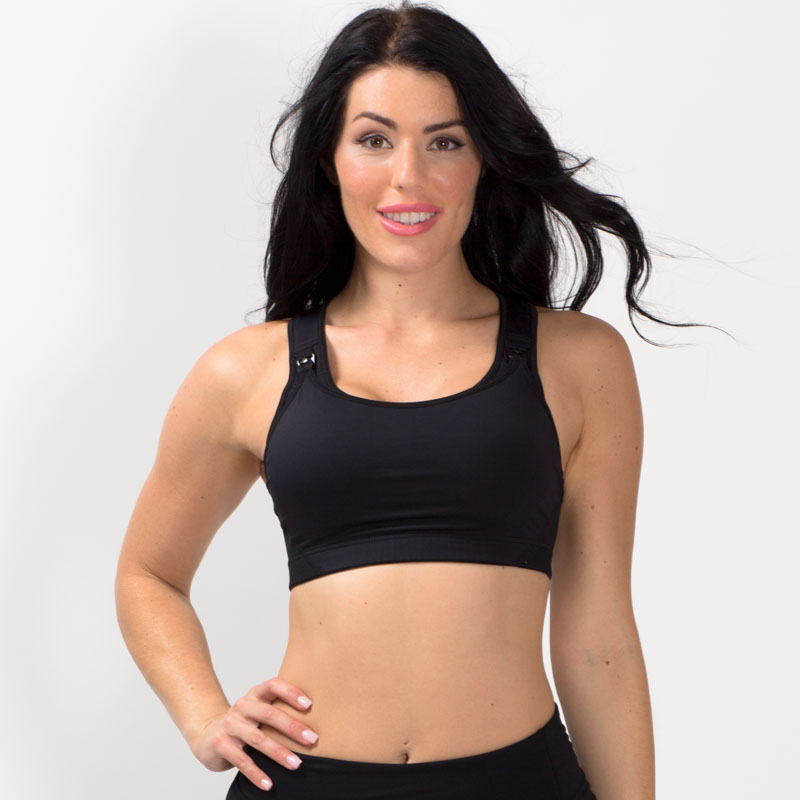 This European designed sports bra is ultra comfortable, with padding on the shoulders and performance fabric to keep you cool and comfortable. It is designed as a crop top, with no fastenings at the back so it can't be adjusted to be larger or smaller, and is therefore better to buy when your size has settled down. We recommend using the Boob Sizing Guide to work out the right size for this bra.
Medium Support Maternity Sports Bras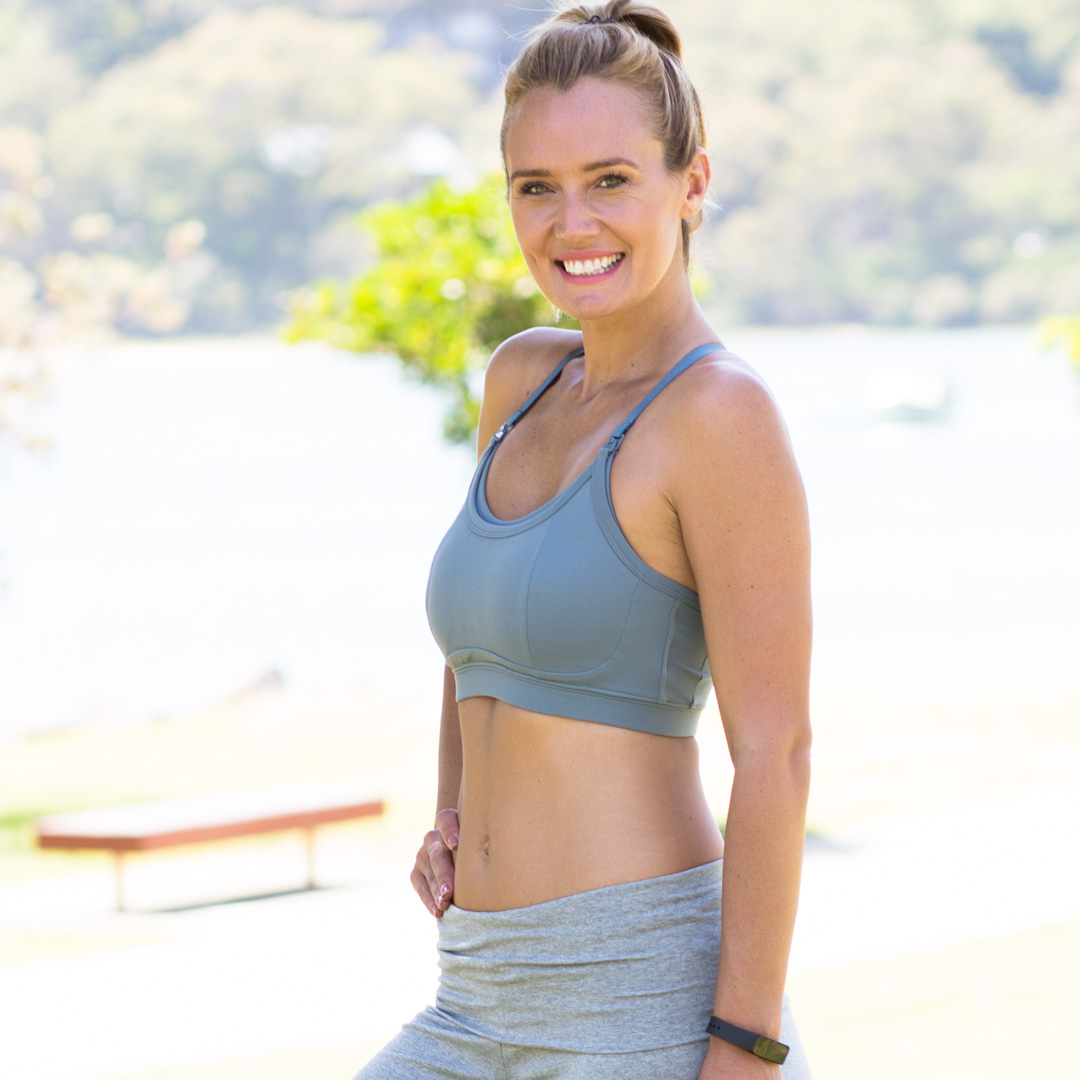 1. Everyday Maternity Sports Bra by Cadenshae
This comfortable sports bra is perfect for everyday wear for up to a D cup size. The racerback design and easy nursing access makes this style a favourite for low to medium impact workouts.
2. Sporty Mesh Maternity & Nursing Bra by Belabumbum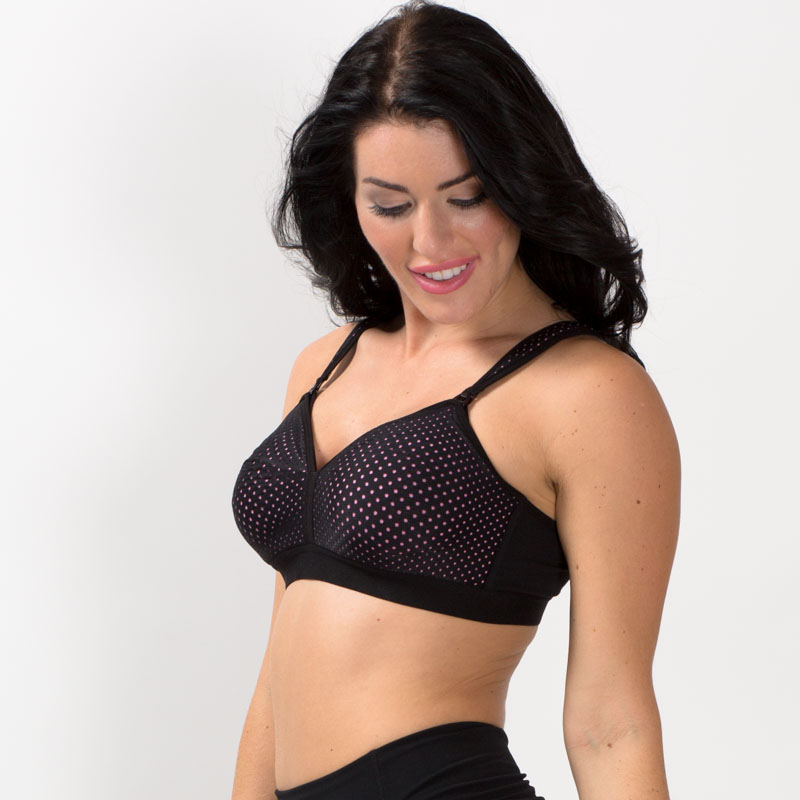 Made for pregnancy and nursing, with sizes available in Small to XL, this American style can be converted from a normal back to racerback style with the aid of a small clip. This is perfect for low to medium impact activities
Low Support Maternity Sports Bra
1. Smoothie Crop Maternity & Feeding Sports Bra by Cadenshae
Ultra comfortable with soft cotton fabric, these Smoothie Crop Tops are perfect for low impact activities such as yoga and just to wear around the house. With drop cup clip access for easy breastfeeding access this bra is also great for wearing just after birth when you want easy access and super comfy clothes. Available in sizes XS to XL for cup sizes up to D cup.
For more information
We have a team of super helpful Mums at Milk and Love, who are all experienced in fitting pregnant mums and new mums with maternity sports bras. Please feel free to give us a call or send an email to ask for help to find the perfect sports bra for you! Contact Us