Posted by Milk and Love Team on 30th Apr 2019
Let me start with a confession: I LOVE lounging at home in soft sleepwear (ideally with a large cup of coffee on a cold day). Having a robe over my PJ's makes me feel snuggly and stylish, even though I'm still in pajamas.
So, when I came across these bamboo maternity robes I fell in love. Made by US brand, Posh Peanut, they are made with premium bamboo in a range of gorgeous prints. Founder of Posh Peanut, Fiona Sahakian, is a mum of 2 children and loves creating beautiful products for mums and babies. Her range of robes and swaddles are designed with a lot of thought and care for the details.
Things we love about these maternity robes:
You can tell these robes were designed by a mother - they have everything you need from a robe:
3/4 sleeve - to avoid wet sleeves when washing your hands (a lot when you have a baby) and staying out of the way while changing nappies
Mid-length means that it's not too short for visitors and not too long to move around easily
Adjustable ties inside and out and cleverly positioned belt sits high on the belly to accommodate your growing bump
Deep pockets - because every mum knows that pockets are everything!!!
They are perfect no matter what stage of motherhood you are at!
If you are pregnant then they will be lovely to pop into your hospital bag as that special piece of luxury to put on after your first shower once bub is here. We are definitely aware that it isn't always glamorous after giving birth but if you can have something soft and luxurious it makes such a big difference. They also are a perfect choice for some of your first photos in hospital with bub.
These robes are also fantastic to throw on over your nightie or nursing singlets when lounging around the house. Some days just fly by in those early months and you can find that you haven't actually gotten dressed, a robe like this is perfect to throw on to answer the door or if you're expecting visitors. I would seriously be happy to wear these stunning florals all day EVERYDAY!
Available in 3 gorgeous colours – Tuscan yellow, Vintage Blue and Dusky Rose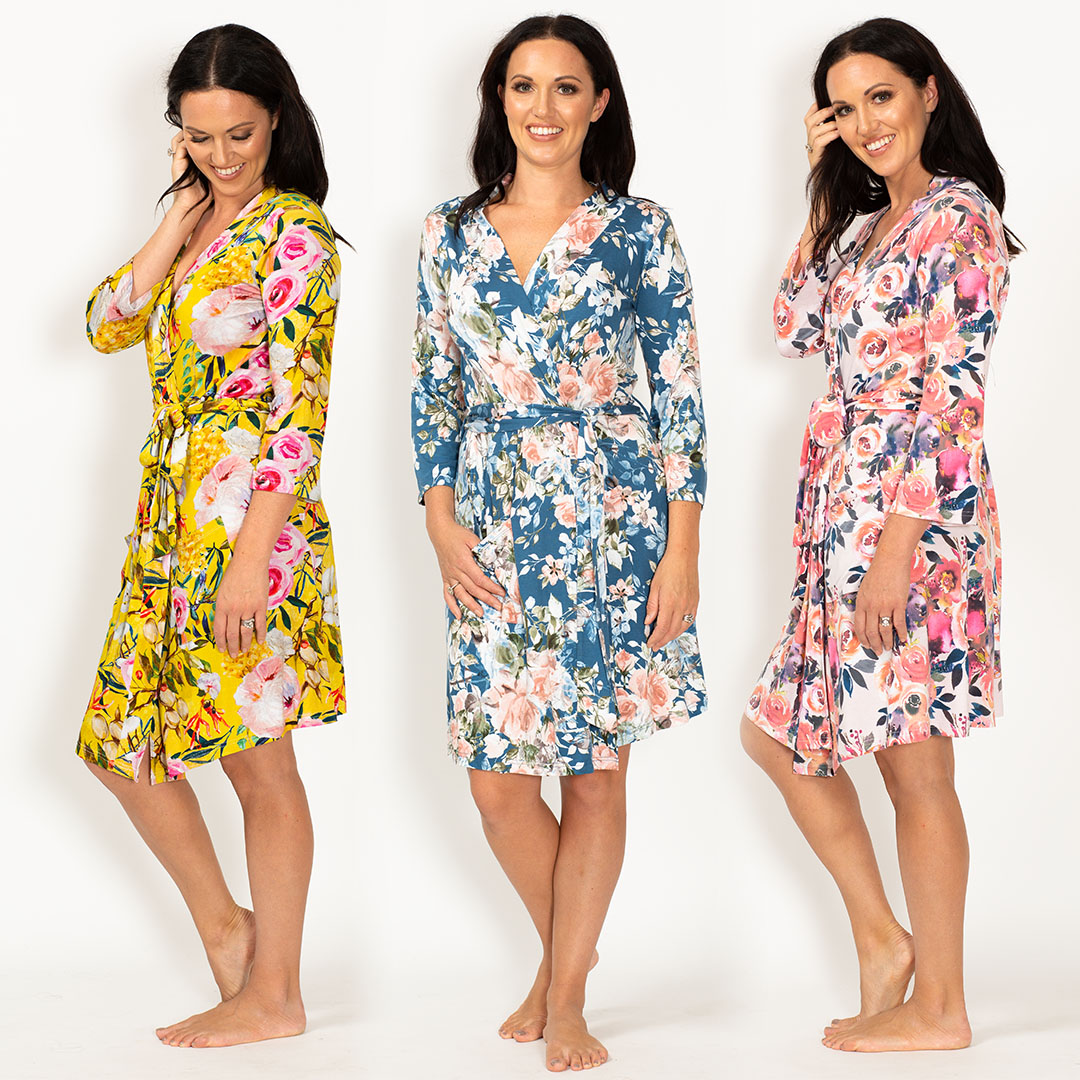 And don't miss the bamboo swaddles, beanies and top knots for baby!
Posh Peanut also create beautiful products for babies. We love the swaddles, beanies and top knots. They make a beautiful baby shower gift or gift for new mums, or if you want something special for a baby photoshoot.