Posted by Corryn Barakat on 10th Jun 2017
Now you can stay comfortable while you exercise with our curated range of supportive maternity activewear, especially designed for Mums with growing bumps, and Breastfeeding Mums.
We've selected the best available maternity sports bras, tops and leggings that can continue to be worn after baby arrives. Unlike other brands on the market, Cadenshae Active Wear is designed by a personal trainer and mum of 5 who knows exactly how maternity active wear needs to perform both during pregnancy and post partum.
Reasons Why We Love Cadenshae Active Wear
Essential features that we love in this range include:
easy breastfeeding access for nursing your newborn on the go after birth
soft bamboo and cotton fabric tops with extra stretch and breath-ability to keep up with your changing body shape and body temperature
supportive fold up / fold down waistband on the leggings to keep them in place comfortably and provide support over or under your pregnant belly, and lovely firm support over your post partum tummy after birth so you can exercise without worrying about your belly
tested non see-through fabric, especially for the leggings! The maternity sports leggings are designed with premium fabric to keep you covered (no matter what position you find yourself in!)
looks great when you're pregnant AND post partum - the stretchy material and easy breastfeeding access means you can invest in this range knowing that it will be a go-to throughout motherhood. Winning!
If you're just getting started with your Maternity Sports Wear here are our favourites for all year round exercise.
Core Maternity Workout Tees and Leggings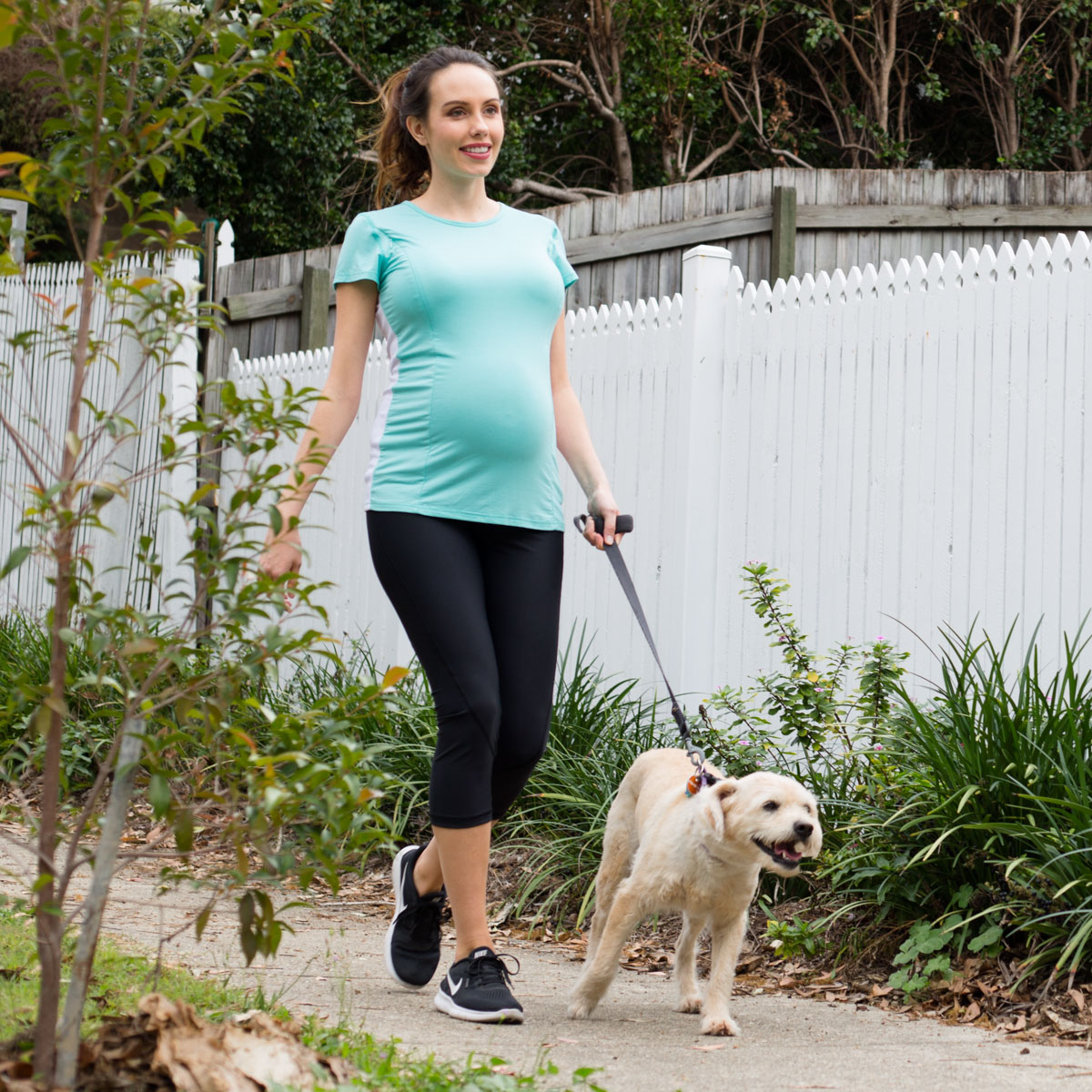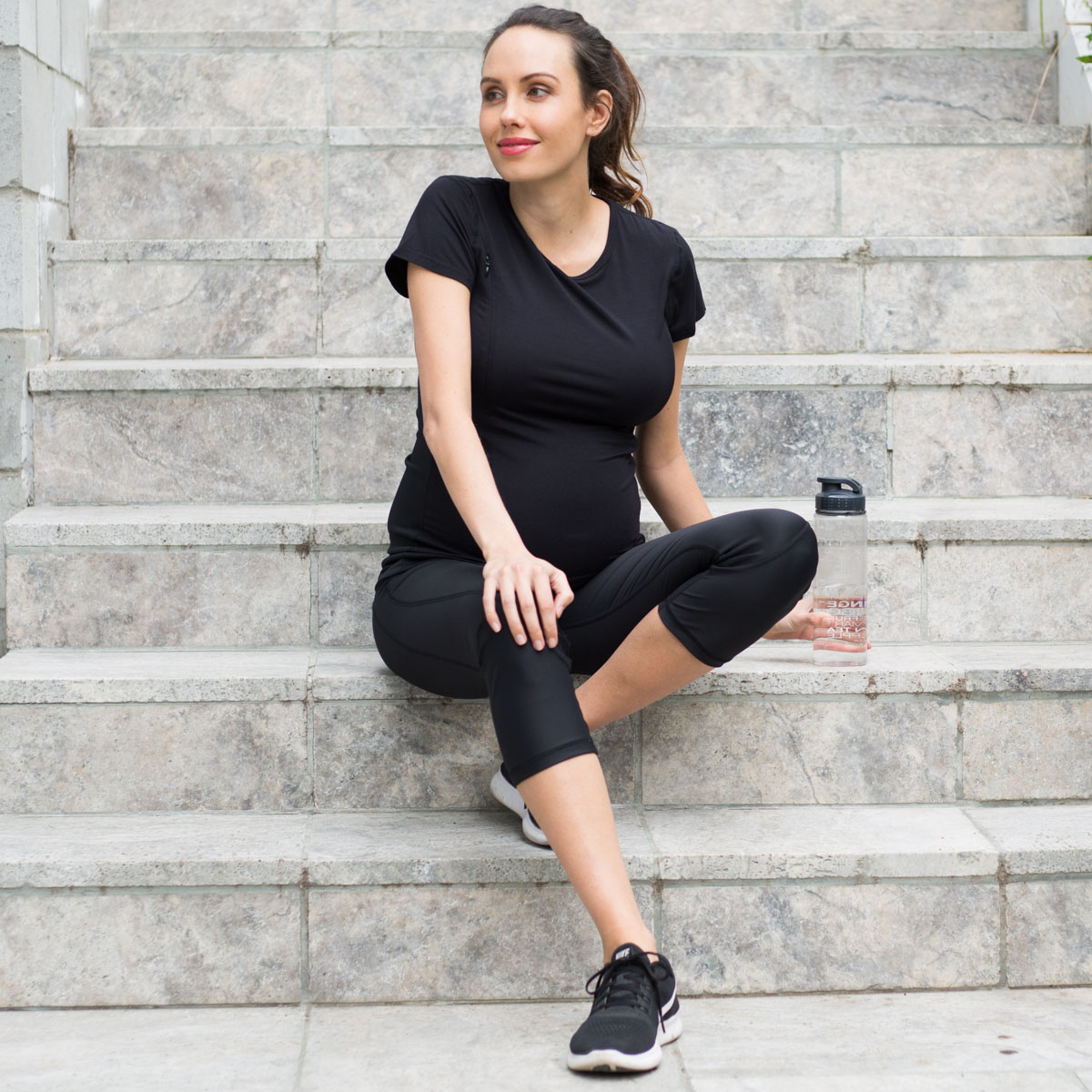 Whether you're keeping fit with your dog or hanging out at the gym, these Bamboo Maternity & Feeding Workout Tees (pictured above in Mint, and in Black) are soft and stretchy and designed to keep up with your busy lifestyle. The extra length has you covered as your bump grows, and the discreet zippers on the bust give you easy breastfeeding access for nursing on-the-go once your baby arrives.
Also pictured are a pair of classic Maternity Sports Leggings - 3/4 Length that are designed especially for pregnancy and post-partum. They feature premium no see-through material that can keep up with you all day long. Comfortably supportive and breathable fabric makes these your new go-to active wear leggings. The fold up or fold down elastic waistband is designed to be firm and supportive for your changing belly.
---
Supportive Maternity Sports Bras
Next on the list are supportive and comfortable maternity sports bras that can double as breastfeeding bras after your baby arrives. These are great for new mums. We love the Everyday Maternity Sports Bra for light to medium support, or if you're into more bounce control check out the Fit2Feed Maternity Sports Bra. These are designed to be firmer and extra supportive for more jiggly activities.
You might be interested in this blog on how to choose the right maternity sports bra for you
---
Maternity & Breastfeeding Hoodies
Last but not least, you need something to throw over the top to keep you warm and snuggly in the colder months. This 100% Cotton Breastfeeding & Maternity Hoodie has you covered. Made with super soft cotton, this hoodie also features discreet zippers across the bust for easy breastfeeding that keeps your tummy and chest warm and covered while you breastfeed.
This hoodie is great to match up with the Workout Tee, because the zippers line up with each other - making it super easy to undo both zippers and unclip your bra to nurse your baby.
Shop Breastfeeding Hoodies here.
That's it! Leave a comment below & let me know which one is your favourite and how you're staying active during pregnancy
---
About the Author
Corryn is a lover of coffee, hugs and sunshine. Mum of 3 and founder of Milk and Love, Corryn loves chatting to new mums and pregnant mums. She has extensive breastfeeding experience, and is an advocate for gentle parenting, cosleeping and looking after Mum's mental health... read more about Corryn here