Posted by Corryn at Milk and Love on 10th Jan 2019
When the team at Milk and Love came across Finch and Folk soft baby toys and play mats we fell in love with the stunning designs and the eco friendly ethos behind the brand. Created in 2010 by Rachel Mckenzie, all of the designs are hand drawn by Rachel herself and ethically produced on GOTS certified organic cotton.
Mum of two young boys, Rachel lives in the beautiful Byron Bay region and wanted to create eco baby toys and swaddle wraps to stand the test of time that are inspired by nature and made to encourage a curiosity in the world around us.
The collection is made from organic cotton; non-toxic and hypo-allergenic natural materials that are super soft and kind to precious skin. Each piece has been printed using inks certified safe to use by GOTS and made only by hand picked suppliers that satisfy the environmental and social responsibilities of being GOTS certified.
Here are a few of our favourites: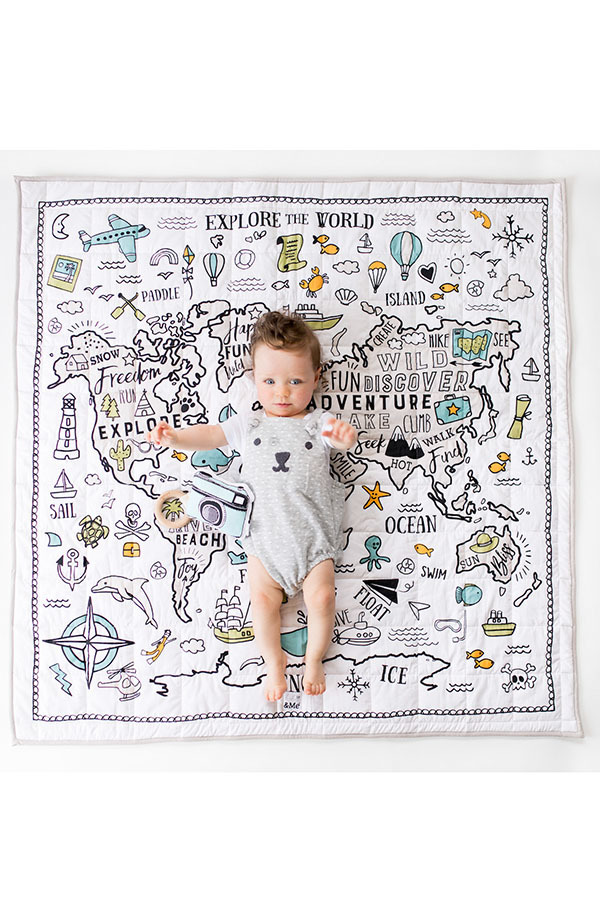 World Explorer Organic Play Mat
This square play mat is GOTS certified organic cotton and a large 120cm square size. We love the hand drawn world map in soft neutral colours because it is gender neutral and can used for babies to play on as well as for toddlers and young children to learn about the world around them.
Thoughtfully designed to be machine washable with a a tough organic cotton canvas base to help it stand the test of time. LOVE! Shop Play Mat
Soft Baby Activity Play Cube Block - Little Dreamer
This soft baby play cube features unique monochromatic designs on each of the four sides, along with soft organic cotton fleece handles and tactile grabs for baby to play with. With crinkle sounds and a rattle inside, this cube has many sensory elements to keep little ones entertained.
Best of all, when you detach the natural wooden ring it becomes machine washable. Shop Soft Baby Play Block
Soft Baby Rattles - Whale and Turtle designs
These soft baby rattles feature original modern aboriginal designs that are hand drawn by Lara Went from Yukul Art. Made with soft certified organic cotton fabric and eco printed it also features a link you can use to attach your rattle to a pram or play gym.
Shop Whale Soft Rattle or Shop Turtle Soft Rattle.